Cleano Clean Temporary Files on Windows Logon
Do you want to have your Windows clean from all sorts of junks e.g. temporary files every time you logon into your system? If yes, Cleano is what you're looking for.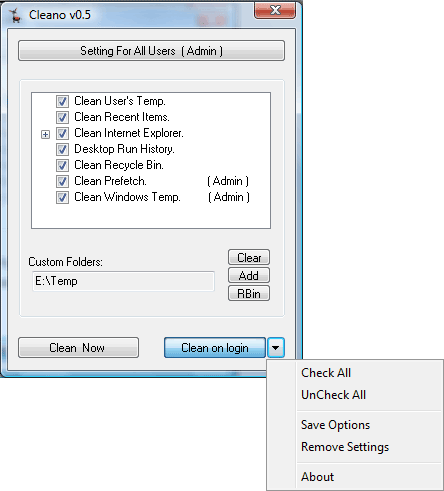 Cleano is a lightweight freeware application for Windows that allows you to easily clean unwanted aka temporary files from your computer every time you logon your Windows. To use Cleano, just run the Cleano.exe file. On the main window of Cleano, you can check all or some chosen temporary files that you want it to be cleaned on Windows logon. To apply the setting, click on the "Clean on Login" button.
Here's a list of temporary data that Cleano can clean :
User's Temp.
User's Recent Items.
User's Internet Explorer.
User's Desktop Run History.
Windows Prefetch files.
Windows temp.
User's Coustom folders