Bring Windows 8 Win+X Quick Access Menu to Windows 7, Vista and XP
By Steve Yu on April 13, 2012
@steveyu85
'
If you have go through the list of Windows 8 keyboard shortcuts that we've published a while ago, you should notice the Win + X keyboard combination. Pressing the Win + X keys should reveal the hidden quick access menu, also called the "Win+X menu". The menu provides quick and easy access to a handful of useful system tools like power options, command prompt, device manager and more, with just a click of mouse button.
Now, would you like to try the Windows-8-only feature on other Windows like Windows 7, Vista or XP? Try WinXPlus. It's a lightweight portable application that brings the Win+X Menu to Windows 7, Vista and XP.
Simply run the WinXPlus executable file from the downloaded zip file. To access the menu, you can either right-clicking on the Start button or simply press the Win+X keys. Or you can access the menu from WinXPlus icon in the system tray.
Here's the Win+X Menu in action.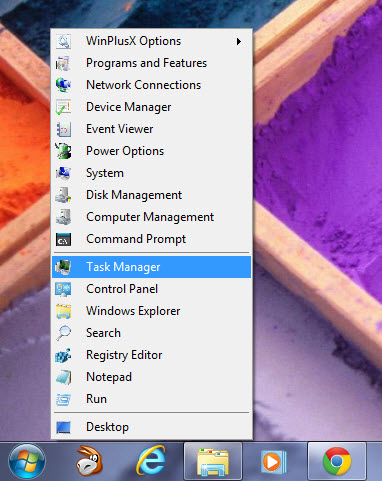 The WinPlus X is highly customizable. You can add new shortcuts (to applications) or remove the existing shortcuts. To remove a shortcut, simply hit Remove Shortcut, then click on the shortcut that you want to remove. To add new shortcut, click Add New, then choose the application that you want to add to quick access menu.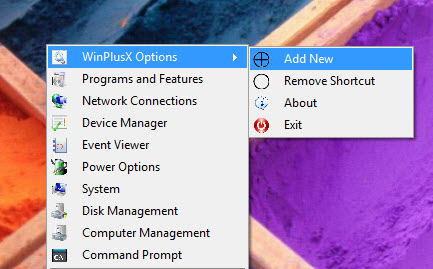 Related
Steve Yu is a technology blogger with ten years blogging experience under his belt. He is the founder of MyTechQuest.com or just MTQ.
Social Count

Android

Latest Articles

Latest Windows 10

Latest Freeware

Find Us on Facebook
Copyright © 2007 - 2017 My Tech Quest. All rights reserved. Powered by Wordpress and Hostgator.