Bitdefender Rootkit Remover Tool for Windows
'
Bitdefender is never running out of free standalone tool for its users. Last time, we've written about Bitdefender 60-second Virus Scanner and Bitdefender USB Immunizer, among others. This time around, the security software maker has released a new Bitdefender Rootkit Remover tool.
As the name implies, Bitdefender Rootkit Remover is an easy tool to deal with known rootkits. It uses award-winning Bitdefender malware removal technology to quickly and effectively detects and removes known rootkits from your computer.
The list of known rootkits include Mebroot, all TDL families (TDL/SST/Pihar), Mayachok, Mybios, Plite, XPaj, Whistler, Alipop, Cpd, Fengd, Fips, Guntior, MBR Locker, Mebratix, Niwa, Ponreb, Ramnit, Stoned, Yoddos, Yurn, Zegost and also cleans infections with Necurs (the last rootkit standing). Note that new rootkit families will be added into the list as they become known.
Bitdefender Rootkit Remover requires no installation. Simply launch the downloaded executable file to run. The application is easy to use and straightforward.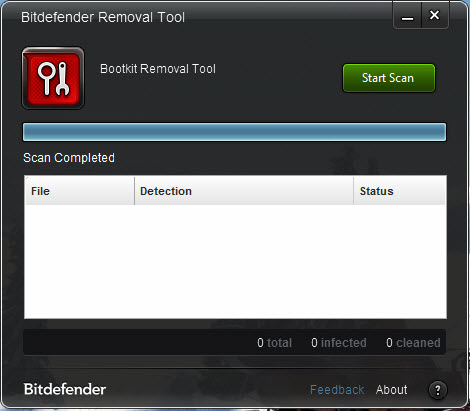 Hit the Start Scan button to begin scanning for rootkits. If the tool detects rootkits on your system, it will automatically remove them from your system. A reboot is required for complete cleanup. From our test, the tool didn't detect any rootkit on our system and it took less than a second to scan if your system is clean. 🙂
Bitdefender Rootkit Remover is free for download and is compatible with Windows 7 and Vista.
Download Bitdefender Rootkit Remover (32-bit)