Ariolic Disk Scanner Scans Your Hard Drive for Read Errors
'
I worked for a computer shop as a part-time technician last year. One of the tasks was formatting the Windows on client computers. There were some cases that the clients could not load into their Windows because of hard disk failure and there was nothing I could do to backup the important data from the hard drive. This problem can be avoided at the first place.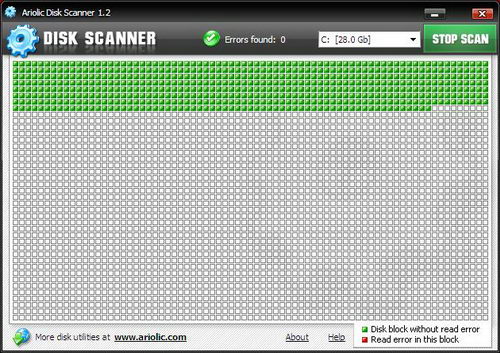 Ariolic Disk Scanner is a lightweight and free software utility for Windows that allows you to check your hard disk for read errors. Disk read errors may be the first typical sign of the possible disk failure. Ariolic Disk Scanner makes a raw sector read check of the hard drive and shows the result as a picture of your disk, where the good and bad clusters marked, so you can see the status of your disk at a glance.
It's advisable for you to regularly scan your disk (for say, once a week).
Here are some key features of Ariolic Disk Scanner :
Portable, can directly run from CD or a Flash drive.
See the check result at a glance
Works with hard drives, flash disks, CD, floppy
Nice and simple user interface
Ariolic Disk Scanner is designed to work with Windows XP and Vista.