4 Freeware Portable Apps Suite for USB Drives
'
Are you deciding on which portable applications to be include in your USB drive? Save your time, get yourself a portable application suite. It contains all sort of applications including web browsers, graphic tools, chat applications, security software, audio tools, cd/dvd burners and more.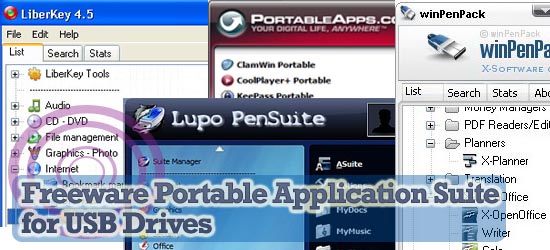 Today, we will look at the best freeware portable application suite for your USB drive. They are Liberkey, PortableApps, Lupo PenSuite and winPenPack.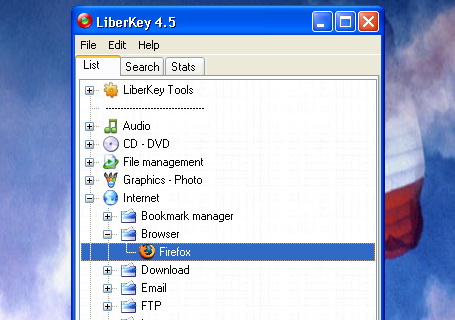 Liberkey portable apps suite comes with three packages : Basic (26 applications), Standard (94 applications) and Ultimate (165 applications). The main menu is easy to navigate where all programs are arranged according to their type. What's I find useful is the ability to remove any applications from Liberkey menu using the Liberkey Uninstaller. Besides removing apps, you can install apps into the suite. You can includes more than 260 applications into the apps suite. Other notable features are updates of Liberkey directly by Internet plus temporary file extensions association (.avi, .jpg, .doc etc) with Liberkey applications.
Liberkey is available in both English and French language. It is compatible with Windows 2000, XP and Vista.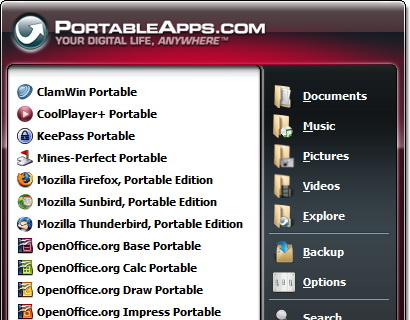 PortableApps.com suite include a collection of portable apps plus integrated PortableApps.com Menu and the PortableApps.com Backup utility along with a set of custom icons, an autoplay configuration, folders and a quick start shortcut. The suite comes in two choices : Suite Light (46MB) and Suite Standard (124MB). Besides bundled applications, you can download and install portable applications separately from the Application Directory.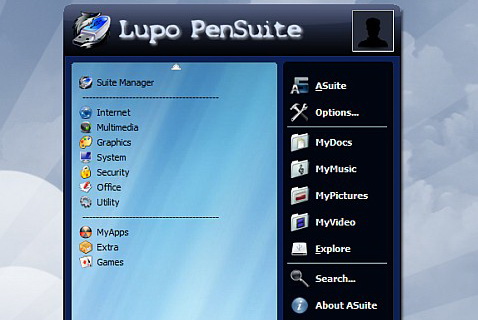 Lupo PenSuite includes over 200 highly selected free portable programs and games. It comes with three version : Full (200MB) , Lite (70MB)  and Zero (2MB). Lupo PenSuite allows you to install additional portable apps and games into the suite from over 2000 available apps. The Manage Apps tool (in the Suite Manager) gives you the ability to update, backup, restore and remove apps of your Suite with ease. Besides, you can change both the skin and icon set of the Suite.
Lupo PenSuite is compatible with Windows XP and Vista.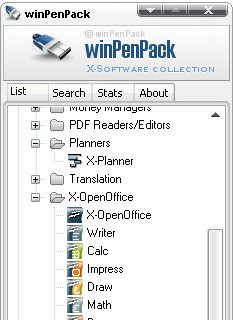 winPenPack portable software suite is available in several editions. WinPenPack Flash Essential and Flash 2GB contains the best open source software and arranged into categories : Graphics, Multimedia, Internet, Office, System, Security, Development and Utilities. Other editions are winPenPack Flash School, containing educational programs, winPenPack Flash Game, for games lovers and winPenPack Flash Web, for web development and e107 website system management. In addition, you can create your own winPenPack Personal by just adding your desired programs.