3 Tools to Hide Your Active Windows Applications from the Taskbar
'
Just as you would hide your folders on your desktop to keep your personal details safe and also to protect your privacy, you might probably do the same to your running programs – hide them from view, so that no one has the chance to peep on what programs that you are running, not even your spouse, friends , children or boss!
Not just for privacy purpose, you might also need them to make your running windows less obtrusive. Imagine having a handful of programs running on your Windows taskbar. You might choose to hide some inactive programs. Here I have highlighted three free windows applications that can help you keep your running programs out of view.
1. Window Hidie
This light weight yet useful utility can hide any running programs with just a hot key. You won't be able to find the program in the Windows taskbar or Alt+Tab menu either once you've hide the program. There are three keyboard shortcuts available for use. They are :
Windows Key + A to show/hide the program.
Windows Key + Z to hide active window.
Windows Key + S to show all hidden windows.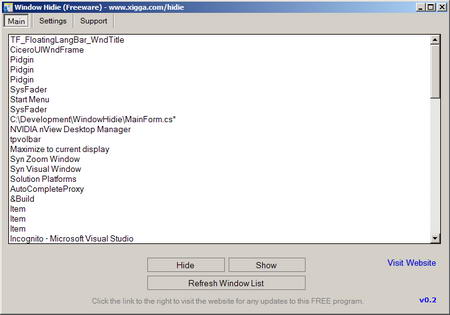 You can define your own hot keys if you want. You can also choose to hide the programs manually from the list of running applications in Window Hidie. However, I still prefer the windows shortcuts because Window Hidie includes system processes in its list of running windows, which may be confusing for you to find the program that you want to hide.
Download Windows Hidie Now | 92 KB
Note : Make sure you have the Microsoft .NET 2.0 Framework installed on your desktop before download.
2. Magic Boss Key
Just like Window Hidie, Magic Boss Key also works with hot keys. Even more, you can hide all your desktop icons to turn your desktop into a clean desktop.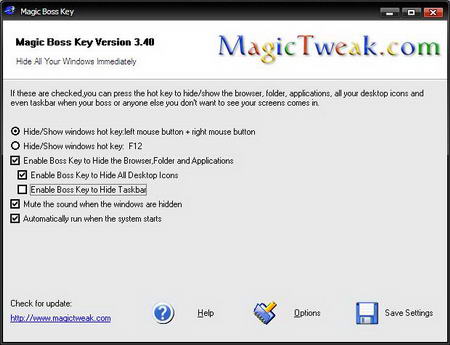 Download Magic Boss Key Now | 549KB
3. WatchCat
This is a better hide-programs-from-view utility. Besides using hot keys to hide your windows programs, you can also set up timers which automatically hide or close windows after a specified period of time. You can even protect hidden windows with a password.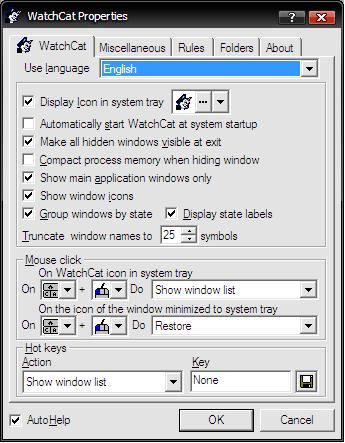 Download WatchCat Now | 147 KB