Download Bitdefender Total Security 2018 with 3 Months Free Trial
'
Bitdefender has released its most comprehensive security suite back in July this year. With Bitdefender Total Security 2018, user gets 4-in-1 security protection for Windows, Mac OS, iOS and Android.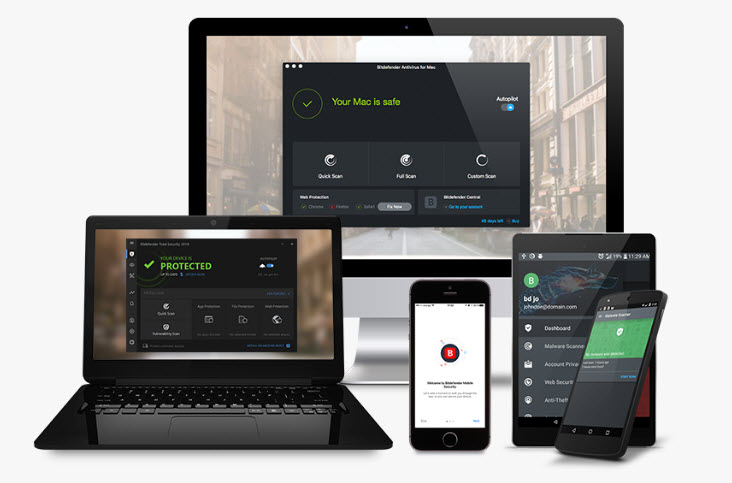 The latest version comes with new features and improvements like :
Advanced Threat Defense – uses advanced heuristic methods to detect ransomware and other new threats in real time.
Webcam Protection – permanently monitors the apps that try to access your camera and blocks those not listed as trusted.
Safe files – provides protection against ransomware for important files on the system. Only trusted applications are allowed access to files stored in your protected folders.
Firewall – adds an extra layer of protection, by blocking potentially malicious applications that want to connect to the Internet. 
Continuous updates – get the latest versions of Bitdefender instantly, through product updates.
Go here for more information on the new features and improvements.
BitDefender Total Security 2018 is normally priced at $89.99 with 1 year license subscription for up to 5 devices. As part of the promotional offer from BitDefender on its Facebook page, you can get the security software suite with 3 months free subscription license.
How to Grab BitDefender Total Security 2018 with 90 Days Free Trial?
First, visit the promotion page at the official Facebook page of Bitdefender.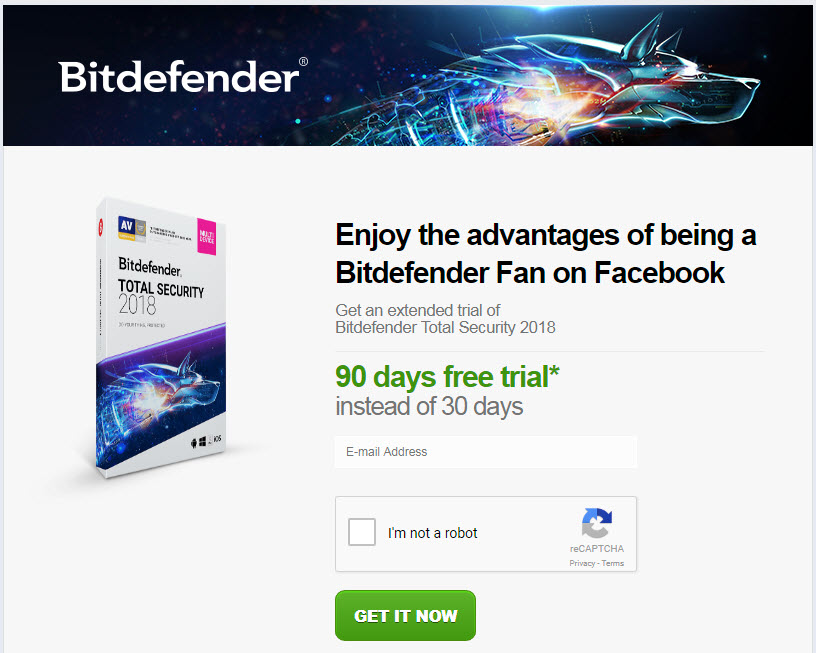 Hit on the "Like" button to become a fan of BitDefender in Facebook, thus unlock the page at which you can request 3 months subscription of BitDefender Total Security 2018. Provide your email address in the given text box, then check on the "I'm not a robot" box and finally hit the GET IT NOW button.
An email will be sent to your inbox with instructions on how to activate and install the security suite. Once installed, you get to enjoy the security protection of Bitdefender for 90 days for free!
BitDefender Total Security 2018 is compatible with Windows 10, Windows 8 and Windows 7 operating systems as well as Mac OS, iOS and Android.