Pause Youtube Videos for Later Watching with PauseForLater [Chrome Extension]
'
If there is a functionality that you would love to have it in Youtube, that will be the ability to pause the Youtube video and resume the video at later time from the point you've left it last time. Introducing the PauseForLater web service for Chrome (and other browsers too like Internet Explorer, Firefox, Opera and Safari).
As we all know, all Youtube users have the ability to upload videos up to 15 minutes in length, while some users are giving permission to upload unlimited length videos. Therefore, there must be time that we're unable to finish watching a particular Youtube video because of the video length or you ran into something while watching the video.
This is when PauseForLater comes in handy. You can place a pause marker at any point of a particular video, and watch the video again from that point at later time. All the videos that you've marked are sent to Your PauseForLater account. From there, you can resume watching videos where you left them last time.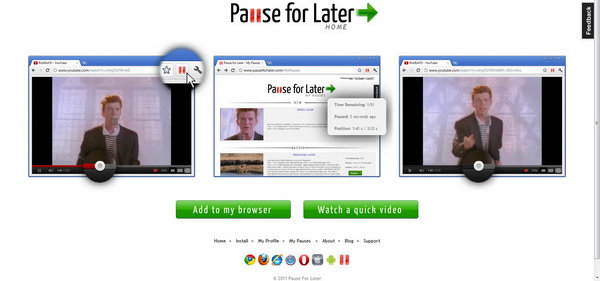 To use this service, you need to first create an account (it's free) at Pause for Later website. Then, install the PauseForLater extension to your Chrome browser or you can drag PauseForLater's bookmarklet (appears as a Pause button) to your browser's bookmark toolbar.
Now, whenever you want to pause a video in Youtube. Simply hit the Pause icon from the bookmark toolbar. The video will automatically added to your Pause for Later's account.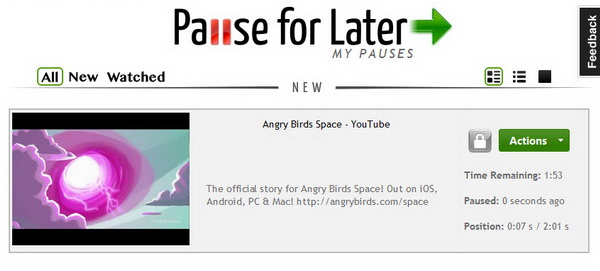 If you feel like getting to the videos the last time you left them, simply head over to your account, then hit Actions > Watch Now option for the particular video.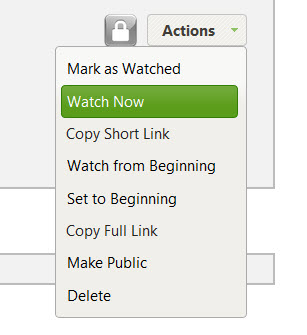 Youtube lovers, you don't want to miss this great web service.