Windows 8 Consumer Preview to be Unveiled on February 29
By Steve Yu on February 9, 2012
@steveyu85
'
To everyone of us who are eagerly waiting for the release of Windows 8 Consumer Preview (aka beta version of the new operating system), it's now official that Microsoft will host Windows 8 Consumer Preview event on this February 29!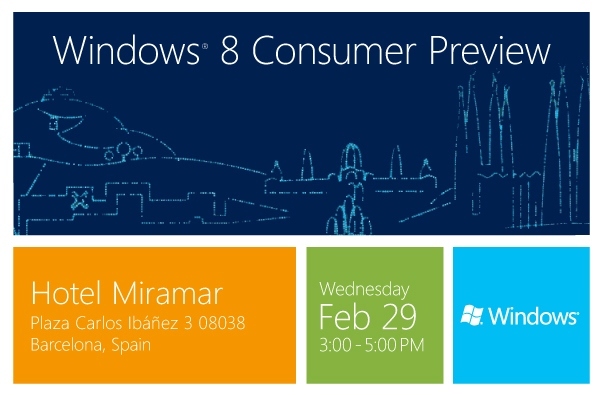 Above is the invitation issued to selected members of the press for the event in Barcelona on February 29. FYI, the event is to be held during the Mobile World Congress (MWC) 2012.
At the mean time, you may want to download the wallpapers extracted from the Windows 8 Consumer Preview or take a look at the leaked screenshot images of Consumer Preview.
[via]
Related
Steve Yu is a technology blogger with ten years blogging experience under his belt. He is the founder of MyTechQuest.com or just MTQ.
Social Count

Android

Latest Articles

Latest Windows 10

Latest Freeware

Find Us on Facebook
Copyright © 2007 - 2017 My Tech Quest. All rights reserved. Powered by Wordpress and Hostgator.