All PDF Converter Pro for Windows Review
'
All PDF Converter Pro for Windows Review – It has been a while since our last commercial software review. Today, we are going to take a closer look at All PDF Converter Pro – a PDF conversion tool for Windows. It's a product from PDFConverters that enables users to convert PDF files to over 10 commonly used file formats in batches, with original layouts retained. The reliable OCR capability allow users to convert scanned and image-only PDF files to editable documents.
The Interface
This is the main screen of the application. It has a clean and straight-forward interface, therefore it should be a stroll in the park for users to navigate the application. The main menu is at the top of the screen. The left panel shows a list of file format options available for PDF conversion.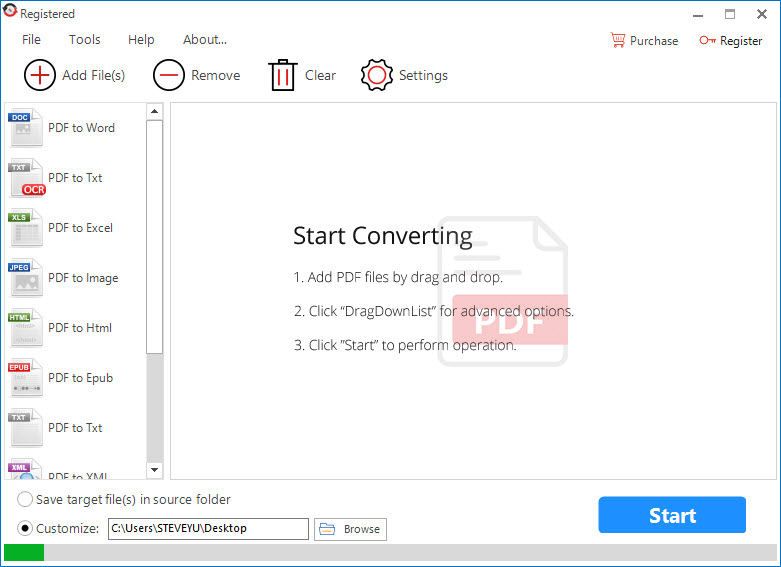 Before we proceed, let's check out all the features of All PDF Converter Pro.
Features of All PDF Converter Pro
Convert PDF files to over 10 file formats, including Word (.doc, .docx), Excel (.xls, .xlsx), Powerpoint (.pptx), HTML, EPUB, Images (.png, .jpg, .tiff, .emf), XML and text format.
PDFs OCR – converts scanned PDF files into editable documents. 
Images OCR – extract text from images and turn into editable text format.
Combine multiple PDF files into one single PDF document.
Ability to remove passwords (provided you know the passwords) from encrypted PDF files before conversion.
Preview PDF files before conversion.
Convert only the pages you need with page selection feature. 
Support batch processing.
Support 7 user interface languages (English, German, Russia, Chinese, French, Italian and Spanish).
Now, we will walk you through on how to use this PDF conversion tool and also to find out how good this tool is – in term of retaining the formatting with text, columns, tables and images, rate of accuracy, and also conversion speed.
How to Use All PDF Converter Pro?
All PDF Converter Pro is easy to use and beginner-friendly. All the available file format options are displayed at the left panel. In the Settings, you can set the file format for Word (.doc or .docx) and Image (.png, .jpg, .tiff, .emf). In addition to that, for conversion to HTML format, you can choose between to convert all pages in PDF into one HTML file or each page get their own HTML file. The same applies for text format. You can also set the PDF to Image conversion to extract images from PDF files, instead of turning every page into image file.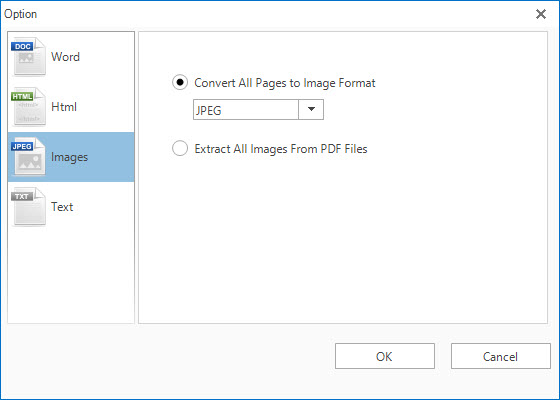 There are two ways to add PDF file(s) for conversion. One is using the Add File(s) button while another way is to drag-and-drop the PDF file(s) into working space of the application. You can add multiple PDF files as the application supports batch processing. According to the developer, there is no limit to how many PDF files that you can put in queue to run at the same time. However, you can only choose to convert the PDF files to one file format per batch.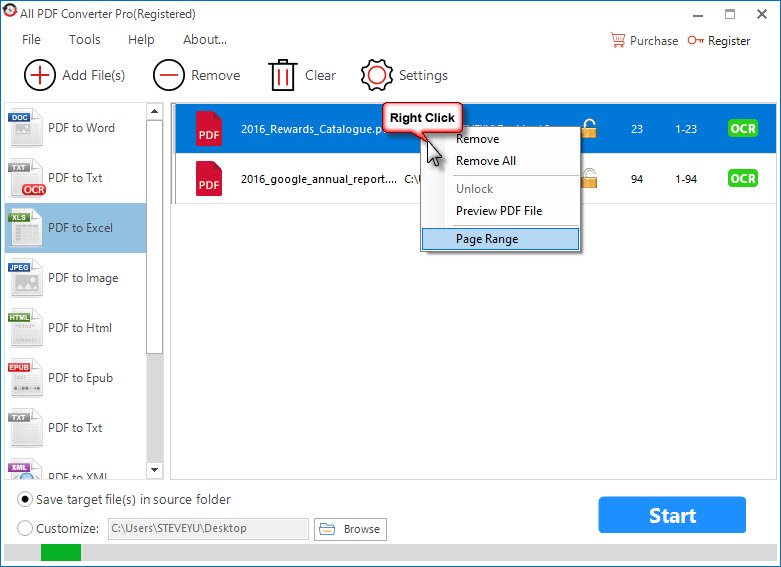 Right-click on a PDF file will reveal a set of options. You can remove, unlock (if password-protected), preview and set the page range that you want to convert. Choose the format to be converted into, then pick whether to have the output(s) saved in the same folder as your PDF file(s) or other destination folder of your choice. Once done with the selection, you can now press the Start button to begin the file conversion. Easy as that.
How Good is the Conversion?
In our test, we use 3 PDF files and two products brochure images as samples. A 23-pages credit card's rewards catalogue (with some texts and a lot of images) and a 94-pages Alphabet Inc's 2016 annual report (with a lot of texts, a few graphs and a handful of tables) are used for normal conversions (without OCR), while a 4-pages credit card statement (with texts and numbers) is used to test PDF OCR, and two images are used for testing Image OCR. 
Here are the time taken to convert each of the PDF files into word and excel documents.
23-pages credit card's rewards catalogue : 34 seconds | 5 seconds
94-pages Alphabet Inc's 2016 annual report : 1 minute 33 seconds | 17 seconds 
Both file conversions into word documents are considered fast (approximately 1 second per page) with nearly perfect results. The formats are retained with text, columns, tables and images. Gladly, there is no missing image. Just that some words got separated by multiple spaces and there are some overlapping texts. There is no spelling mistake for some of the pages we went through. So we assume that the rest of the pages should be free from spelling mistake too. Thumbs up!
Here's a sample page from the PDF file.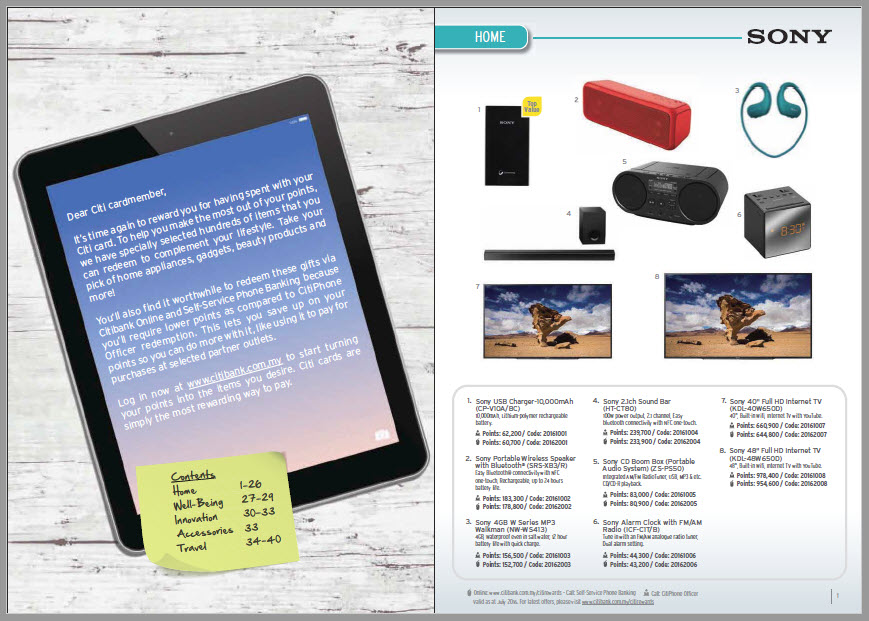 The same page now in Word document format.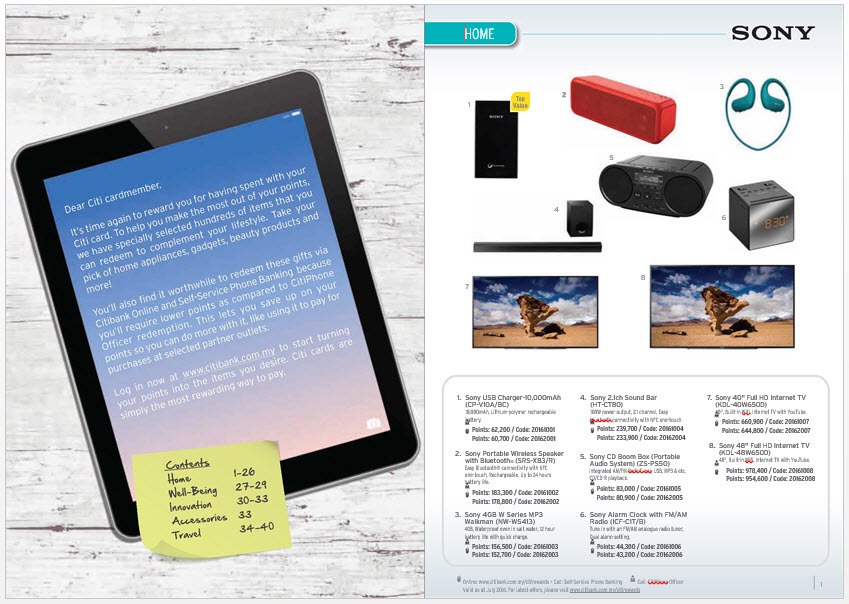 We didn't encounter much issues with conversion to other file formats like Excel, Image, Powerpoint, HTML and text format. Conversion to EPUB format is suitable for text-centric PDF files.
However, we are not impress with the OCR technology that this application has to offer. Both OCR for scanned-only PDF and Image returned poor outputs. There are incorrect and missing words, as well as mixed upper and lower cases.
This is the sample image used with Image OCR.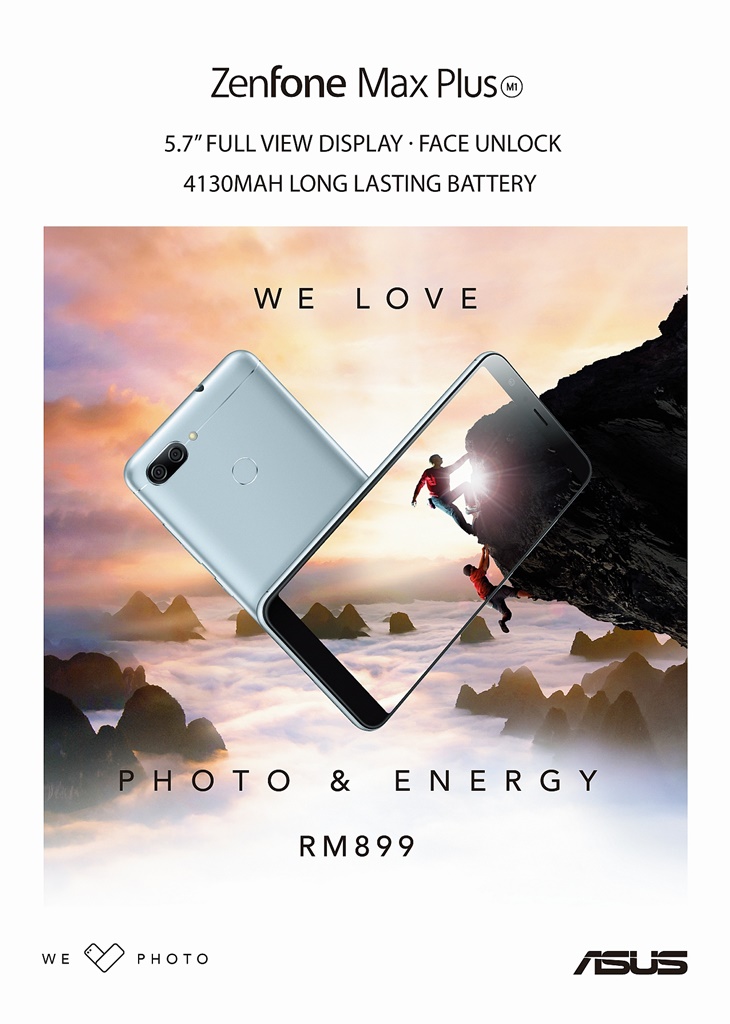 Here's the text extracted from the image. 
 I
5.7" FuLL vlEw DlsPLAyo FAcE uNLocK
413011VIAH LoNG LAsTlNG BATTERy
Zenfone Max Pluso
,,, ].
h
WE
wE zPHoTo
LOVE
i
h
h
OTO &
I

RM899
ENERGY
-A-
W=
Conclusion
All PDF Converter Pro does a good job in converting PDF files to file formats like Word, Excel, Powerpoint, Image, HTML and text format. However the OCR technology fails miserably with many messed up words. It requires a lot of works to improve the OCR tool.
The software retails at affordable price of $29.95 per copy, with life-time subscription for one computer. The good news is you only need to buy the license once and get to enjoy any future upgrades and updates. Free trial is available and has no functionality limitation. However, PDF conversion is limited to ten times only.
The software is compatible with both 32-bit and 64-bit version of Windows 10, Windows 8 and Windows 7 operating systems.
Note : License is provided for the review.