Wireless@KL : FREE Wireless Broadband Internet Access Service
'

This is a totally great news to all Kuala Lumpur (KL) residents. Now, you can enjoy FREE wireless broadband internet access service with speeds of up to 512 kbps anytime, almost anywhere in KL.
This is an excerpt from Wireless@KL's website
The KL Wireless Metropolitan Project or Wireless@KL is a FREE wireless broadband internet access service that is brought to you by Kuala Lumpur City Hall (DBKL) and the Malaysian Communications and Multimedia Commission (MCMC) in collaboration with Packet One Networks (M) Sdn Bhd in a pioneering effort to transform Kuala Lumpur into a world-class wireless city.

Users would be able to access speeds of up to 512kbps, taking advantage of some 1,500 Wireless Fidelity (Wi-Fi) access points implemented throughout KL's commercial areas, offices, tourist attractions, residential areas, community centres, DBKL offices and countless other public areas.
Don't get too excited because Wireless@KL is not FREE for life. It's only free for the first two years and there is a cap on maximum data usage (download/upload) of 500MB per month. It's better than nothing, right? Wireless@KL is based on WiMAX (Worldwide Interoperability for Microwave Access) 2.3 Giga Hertz.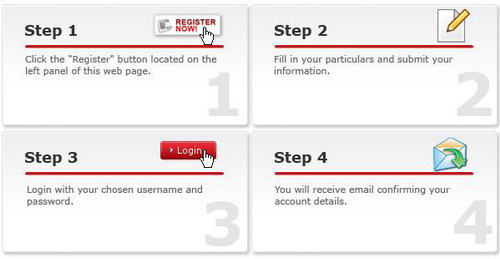 To use the free wireless service, you need to sign up a free account at www.wirelesskl.com. Follow the 4 steps above. Hurry up!
P.S. : I wish I live in KL.