'
Warning : This post contains adult material. Please stay away if you feel offended.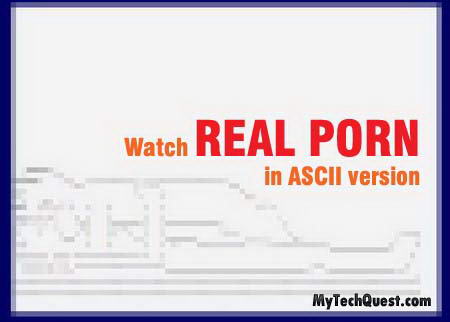 Do you remember my previous post on "How to Watch Free Adult Content via Your Windows Command Prompt"? There are a few people who actually feeling cheated disappointed because my so-called adult content was not what they expected it to be. So actually I am feeling guilty for that ( LOL! well, not really. ), therefore I am here to present you the real stuff, the REAL PORN in ascii version. This time, it is nothing but real porn. LOL!!!
Check it out here. Enjoy yourselves especially to vickie, ah kong and icalvyn. Hope there is no more complain from you all. 😀
P.S. : Thanks to vickie for showing my "little brother" to the whole world. I appreciate it. LOL!!!
Related
Steve Yu is a technology blogger with ten years blogging experience under his belt. He is the founder of MyTechQuest.com or just MTQ.
Social Count

Android

Latest Articles

Latest Windows 10

Latest Freeware

Find Us on Facebook
Copyright © 2007 - 2017 My Tech Quest. All rights reserved. Powered by Wordpress and Hostgator.