Upload Your Files to Multiple File Sharing Services with just One Click
'

Do you frequently upload your files to MegaUpload , Rapidshare or any other free file hosting services around? Uploading files to these file hosting services especially when you decided to upload it to multiple services will sure take you some time. I bet you don't like to do the same uploading process over and over again on different file hosting services.
So how about using a tool that can automatically upload the files for you to the multiple file hosting services? TinyLoad is just the right web service that can do the job for you.
TinyLoad is a service that allows you to upload files to multiple file sharing services at the same time with just a mouse click.
How to Use TinyLoad?
You choose the file to upload ( up to 100 MB ) and press the "Start Upload" button. That's all and you will be given a link. You will use this link to share it with your friends. By default, TinyLoad will upload your files to : MegaUpload, MediaFire, Rapidshare and Divshare. You can also upload the files to other least known file hosting services like BestSharing, SendSpace, Uploading, FileSend, EasyShare and Amazon S3. Just make sure you check the preferred one.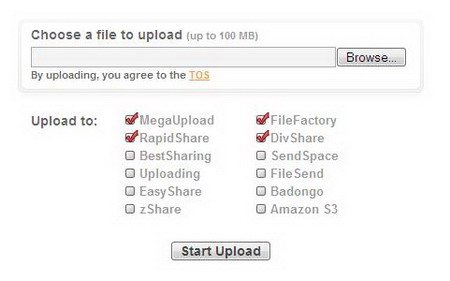 TinyUpload Bookmarklet
This tool never complete without a bookmarklet. With the bookmarklet around, you'll be able to upload files in no time. The TinyLoad Bookmarklet works great on sites like Twitter, WordPress, Meebo, Blogs, and Forums.
Try TinyLoad today!