UniFi High-Speed Broadband to Expand Coverage to 18 More Exchanges
'

The UniFi's High-Speed Broaband (HSBB) service, by Telekom Malaysia (TM), made it's debut early this year, on March 24. FYI, this broadband service comprises triple-play services of high speed Internet, video (IPTV), and phone, with three recommended packages with speeds of 5 Mbps, 10Mbps and 20Mbps.
Initially, the UniFi service coverage only covered 4 areas (all within Klang Valley) namely Shah Alam, Subang Jaya, Bangsar and Taman Tun Dr. Ismail. Now, more Malaysians will be able to enjoy high-speed broadband (HSBB) services with the latest expansion of the UniFi service coverage, now including areas beyond the Klang Valley.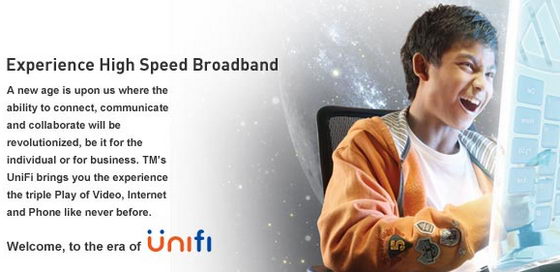 Starting July 1 onwards, UniFi service coverage will be expanded to 18 additional exchanges which includes areas in Penang, Johor and more in Kuala Lumpur and Selangor.
From the official TM's website on UniFi's expanded coverage press release,
The new exchange areas that will be available for commercial subscription include both industrial and residential areas. The industrial areas include Kulim Hi-Tech Park (Kedah), Bayan Baru (Penang), Senai and Permas (Johor). While residential areas include Wangsa Maju, Sungai Buloh, Melawati, Kepong in Selangor, Cyberjaya and Putrajaya and Damansara in the Federal Territory.

To date, the UniFi network rollout has reached 375,000 premises passed. There are currently more than 3,200 customers using the UniFi service.
To learn more about UniFi, please visit UniFi official page at http://www.unifi.my.
P.S. : When can I subscribe to UniFi? When is UniFi will be available in Johor Bahru? 🙁