Track the Beijing Olympic Torch Relay Directly from the Web with Google Maps
'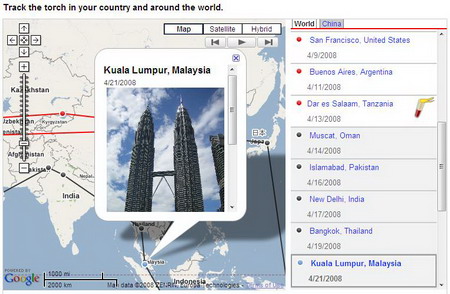 For those who might not aware about the Beijing Olympic 2008 Torch Relay, it has actually started on March 24th and will travel across the globe till August 8 , starting from Greece into Beijing, then around the world ( in 130 days ) through cities, oceans, and even the world's highest mountain, Mt Everest!! ( You gotta be kidding me! ).
And for the first time, you can track the journey of Olympic Torch Relay across the globe directly from your desktop via the Google Maps and also Google Earth. Cool! If you have blog, you can track the Torch Relay from your blog, all you have to do is embed these code and customize it to suit your blog.
Oh ya, the Torch will be carry to our country, Malaysia on 21 April 2008. I'm sure we Malaysians don't want to miss the chance the witness the Torch Relay. By the way, have you check out the Beijing 2008 Olympic-themed gadgets?
P.S. : Will sit for my first paper on 21 April. Tension!
Via BizzNtech