Read Your Favorites Magazines for Free With Google Book Search
'
Google Book Search is a tool from Google that allows you to search the full text of books that Google scans, OCRs, and stores in its digital database. Not just books, recently Google Book Search has include magazine titles to the Google Book Search index which allows you to search and read your favorite magazine titles online for free like Maximum PC, Popular Science and Popular Mechanics, just to name a few.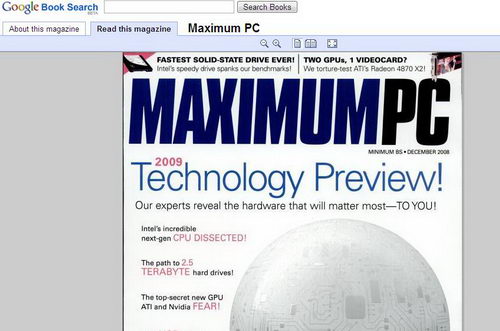 Here is some notable magazine titles that are worth checking :
There are many more magazines covering various topics, just head over to Google Book Search and enjoy reading your favorite magazines for free! Currently, the number of magazine titles are quite limited but I believe that new titles will be included from time to time.
Soon, you will be able to search for magazines directly from Google main search engine as Google is looking forward to blend magazine results into their main Google.com search results.