I Have Subscribed to Celcom Broadband
'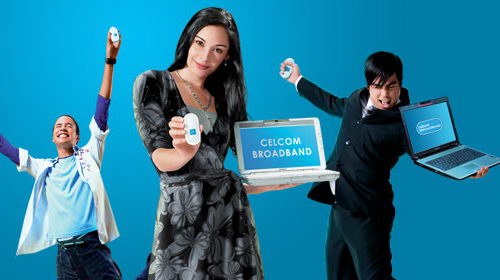 Two days ago, I have announced my two weeks break from any blogging activity on My Tech Quest because I will have difficulty to connect to the internet within the coming two weeks. Guess what, I am now sitting in front of my laptop with my machine connected to the internet. That's mean that my two weeks break has been cut short to only two days.
Actually, I have subscribed to Celcom Broadband Advance Package yesterday which gives me unlimited access to the internet no matter where I am as long as it is within the Celcom network coverage. Celcom Broadband is using 3G and HSDPA (High-Speed Downlink Packet Access) networks to connect to the internet. This RM98 per month package that I've subscribed, will give me internet speed up to 3.6 Mbps. For the basic package priced at RM68 per month, you can get up to 384 kbps transmission speed.


To connect to the internet, I just need to insert the plug & play USB Modem to the USB port of my laptop, wait for the auto-installation of broadband connection manager application to complete (first-time only), run the connection manager, click Connect to connect to Celcom Broadband and I will be online in no time. I bought the USB Modem for RM 499. Even though it is a bit pricey for me as a student but in order to keep my blog updated all the time, I decided to buy it. Hopefully, the money that I've spend is worth it and the cost can be absorbed by the earning from Google Adsense.
HSDPA, also known as 3.5G, is a newer protocol in mobile telecommunication. The package that I've subscribed is using the HSDPA network to connect to the internet whereas the basic package is using the 3G network. My USB modem can support up to 7.2 Mbps transmission speed but the current package only support up to 3.6 Mbps. The good news is during mid next year, Celcom Broadband will support up to 7.2 Mbps internet speed. That is what I heard from the Celcom people when I subscribed the Celcom Broadband.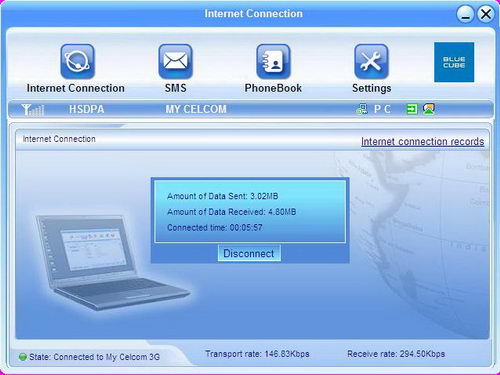 After two days trying Celcom Broadband, the maximum internet speed that my laptop reached was around 500 kbps. That is far lower that the maximum speed that it can reached – 3.6 Mbps. Maybe I am not in the HSDPA network coverage area. Well, it is too early to conclude the overall performance of the Celcom Broadband. If in future I am not satisfied with Celcom Broadband service, I can terminate it anytime because there is no contract attached with the subscription.
If you are interested to subscribe to Celcom Broadband, please first check for Celcom Broadband service availability for your area here.
Anyone using Celcom Broadband?