How to Find Out if Your Friends Have Read Your Email?
'
Have you ever wondering whether the emails that you sent to your friends has been read by them? You are curious to find out, aren't you? But how, without the need to ask your friends ( are you serious? ) whether they have read the email or not?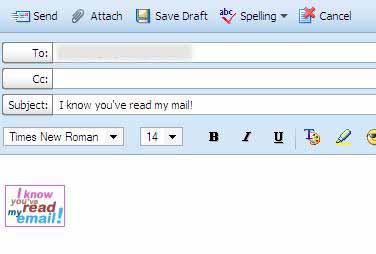 SpyPig – I Know You've Read My Email
Forget all the guessing, because SpyPig is here to let you know. SpyPig is not an ordinary pig from the farm, it is a simple email tracking system that will notify you via email once your friends open and read your messages.
Interested to try out? To start using SpyPig, you need to enter your email address, recipient's name, message title, select your SpyPig tracking image and finally embed the tracking image into your email message. For firefox user, you need to drag and drop the tracking image instead. You should choose a blank image instead if you don't want your recipients to aware it. That's will make you a true spy! Lol!
How does it works?
SpyPig works by using a tracking image whose reference to its location on their server is embedded in your email message. When the recipient opens your email, the tracking image will be automatically downloaded from SpyPig's server, triggering the "email opened" alert on their system. SpyPig will then send you a notification email to let you know. SpyPig works with Gmail, Outlook, Hotmail, AOL, Yahoo etc.
So are you ready to become a spy? Oink… oink…
P.S. : Spammers also use similar technology to check if your email address is valid. So you should never open a spam email no matter at what cost if you don't want to get more and more spam emails.