File Swap – Give One File, Get One Back Free!
'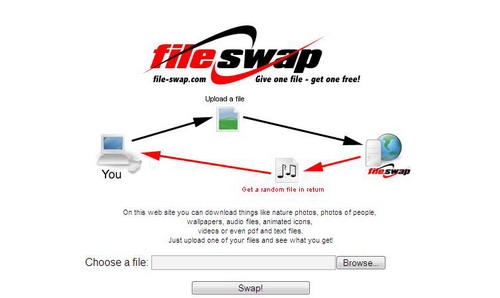 If you couldn't find anything useful to do at the very moment, let check up this totally crap web tool – File Swap. In file swap, you will upload one file from your desktop to file swap and in return you will receive a different file in exchange which someone swapped earlier. You will not know what file that you will get until you have successfully swap one of your file, be it a photo, wallpaper, mp3 song, short video , pdf or text file as long as it does not exceed 500 kb. This web tool is just means for fun and should be label as crap and useless web service.
This is what a user has commented about File Swap.
hey guys, your page sucks a** bigtime, i was able to swap only one file, then i was just getting anoyyed by the fu***ng "that file already exists" or "invalid characters in name" or different kinds of buillshit from you.(i was trying to swap different files)

So I just wanted to say F*** YOU, you just ruined my day, so i'm gonna f*** somebody's day too, because s**t like this really pisses me off.

Hope you rott in hell b*tches. so long
LOL! That was a really nice comment. Anyway, you might want try File Swap too and see what do you get in return. I have tried it and here is what I get – an image of a horse? Useless!