The E-Cigarette : A Century Long Innovation [Infographic]
'
The e-cig has exploded into mainstream popularity, but this billion dollar industry wasn't built overnight. In the 1920's, Joseph Robinson created the first electronic vaporizer, a tool intended for medicinal compounds that exhibited similar characteristics to today's modern e-cigarette. Fast forward 30 years to Herbert A. Gilbert, who filed a patent in 1976 for the world's first smokeless cigarette, a product that wouldn't make traction for another 40 years.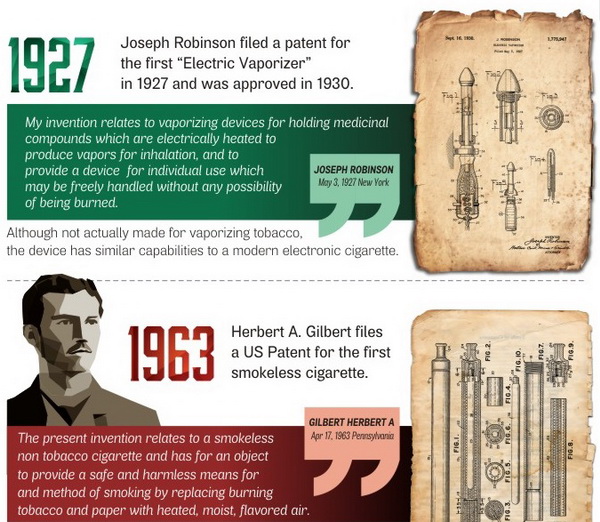 By the 1990s, several patents were filed for novel electronic cigarettes and other cigarette substitutes. Electronic cigarettes were finally realized commercially and in 2004 hit the Chinese market. By 2006, the e-cig made its way to the European market and in 2007 entered the U.S., finding immediate success while facing multiple legal battles.
In 2010, California governor Arnold Schwarzenegger rejected a proposal for a ban on the sale of e-cigs, and the United Kingdom Action on Smoking and Health supported e-cigarettes as a valid harm reduction product. In the same year, The U.S. Court of Appeals for the D.C. Circuit ruled the FDA couldn't ban e-cigs as an unapproved drug delivery device, a decision that would set the precedent for following legal proceedings.
Recent research has shown the use of e-cigs can be 95% less harmful than traditional cigarettes, prompting Public Health England to proclaim they "have the potential to make a significant contribution to the endgame for tobacco." With a combination of new research, celebrity endorsement, and a growing number of users, the e-cig and vaping industries can expect great gains in upcoming years.
The people at Njoy has created an infographic summing it all up. Check it out! 🙂