Who Will Dominate the eCommerce World : Alibaba or Amazon? [Infographic]
'
If you've been closely watching the eCommerce market, you will know that Alibaba and Amazon are doing well in some countries, and not so well in others.
Why Amazon is not getting enough response in China, and why Alibaba is getting a slower response in countries other than China is not very clear. However, there is no doubt that these two are the most popular online shopping platforms in the world.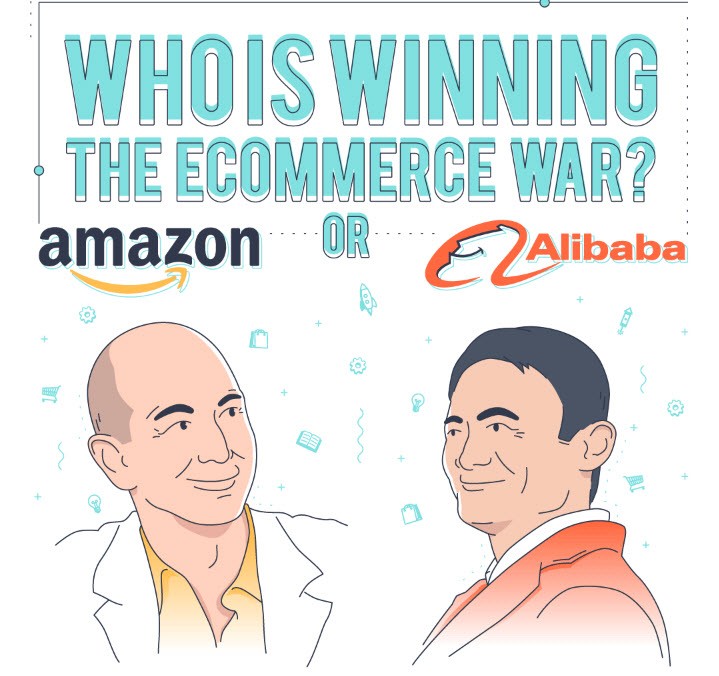 According to this graphic put together by Ecommerce Platforms, the population of the United States of America is 321 million, out of which 286 million people use the Internet. Every 8 out of 10 people in the US use the Internet. This has helped Amazon achieve 310 million user accounts.
The case of China is totally different. Being the most populous country – 1.371 billion, only 731 million people use the Internet. i.e. only 5 out of 10 uses the Internet. And Alibaba has 493 million monthly users with 443 million active buyers.
The competition is savage!
Innovating and bringing up new businesses is the way of Jeff Bezos' Amazon, and Alibaba is trying to catch up by launching new ecommerce websites, cloud services (which have been huge for Amazon), and other business models. Alibaba's own ecommerce portals like Taobao and Aliexpress and doing very well, and they're acquiring existing businesses in other countries to expand– like Lazada in South-East Asia.
Having corporate offices and fulfillment centers in Brazil, India, France, Germany, Italy, Mexico, Netherlands, Spain, UK, Japan, China etc., Amazon has corporate offices alone in many other countries and ships to over 100 countries. In close comparison, Alibaba too has corporate offices in many of the same countries and has suppliers and buyers in over 200 countries. In a quest to be the best, you can see that both of them have set up corporate offices and distribution centers in each other's home turf too!
Check out the infographic below from Ecommerce-platforms.com to see where these companies are heading.