'
At last, Google has added themes support to its Chrome browser with the recent launch of Google Chrome themes gallery on last Tuesday. Now, you can switch to new Chrome theme easily with just a click of mouse.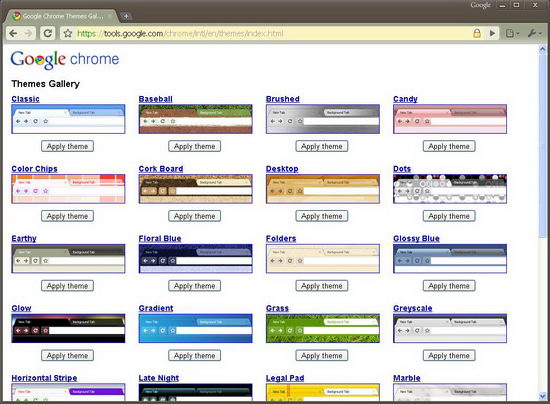 The Google Chrome themes gallery contains 29 themes (including the original classic theme). To install a new theme, all you have to do is choose your desired theme, then click the "Apply Theme" button. Your Chrome browser will download the theme and automatically apply the new theme to your Chrome browser, without having to restart your browser.
Make sure you are running Google Chrome 3.0 beta or above on your Windows, in order to use Google Chrome themes gallery.
Related
Steve Yu is a technology blogger with ten years blogging experience under his belt. He is the founder of MyTechQuest.com or just MTQ.
Social Count

Android

Latest Articles

Latest Windows 10

Latest Freeware

Find Us on Facebook
Copyright © 2007 - 2017 My Tech Quest. All rights reserved. Powered by Wordpress and Hostgator.