Christmas Radio is an extension for Google Chrome that enables you to play and listen to nice Christmas songs from Sky.fm, directly in your Google Chrome browser. If you love listening to sweet Christmas songs while surfing the net, this extension is the right choice.
After successful installation, Christmas Radio icon will appear just next to Chrome's address bar. Simply click the icon to play or pause the radio.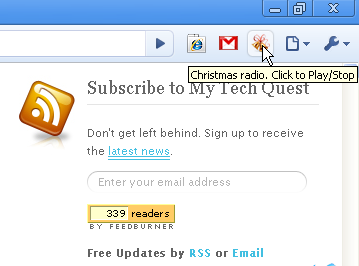 Install Christmas Radio to play Christmas Songs from Google Chrome. Thanks, techiebuzz!
Steve Yu is a technology blogger with five years blogging experience (since 2007). He is the founder of MyTechQuest.com.
Social Count

Recommended Video

Android

Latest Articles

Latest Freeware

Find Us on Facebook
Copyright © 2007 - 2015 My Tech Quest. All rights reserved. Powered by Wordpress and Hostgator.