How to Redirect Download to External Download Manager in Google Chrome?
'

If you are given a choice, which one do you prefer, to download files using a built-in downloader from a web browser or using an external download manager like Internet Download Manager, Orbit Downloader, Flashget etc?
Without doubt, you will pick the external download manager over the built-in downloader, right? This is simply because the download manager has many advantages like the resume capability and faster download speed. However, if you are using Google Chrome, all your downloads are handled by the built-in downloader because by default, Google Chrome doesn't support external download manager.
But the good news is that, you can add external download manager support to Google Chrome, by simply installing the DM Bridge Chrome extension (also known as oGet for Chrome). Using the extension, you can direct the files for download in Google Chrome to an external download manager.
This extension supports over 30 download managers like BitComet, FlashGet, Free Download Manager, Internet Download Manager, Orbit Downloader and more.
After successful installation, you will need to go to the options menu to select your default download manager. Click "Save" to save the changes.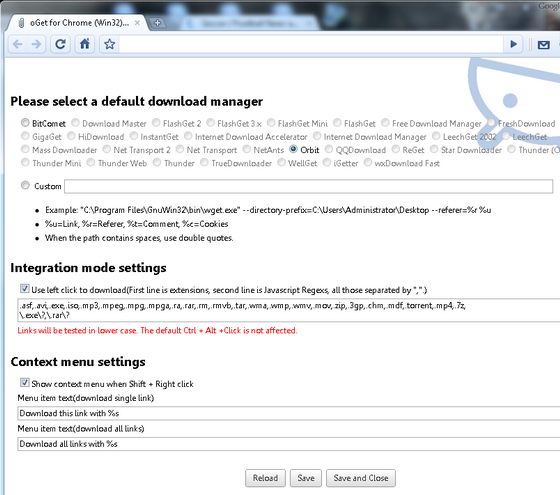 Now, all downloads in Google Chrome will be redirected and handled by the download manager that you prefer.
To download a file, you can either (1) left clicking on the download link (you need to enable option under Integration mode settings),  (2) press Ctrl+Alt+Click on the download link or (3) Shift+Right click to show context menu, and from the context menu, you can choose to download individual file or all download links on that page (you need to enable option in Context menu settings).
Install DM Bridge Chrome extension to direct file downloads in Google Chrome to external download manager.