All Mangas Reader for Google Chrome
'
I have been a loyal and happy manga reader at the One Manga site. To give myself a better reading online and to keep me updated with the latest chapter release of my favourite manga series, I've installed the One Manga Reader (Chrome extension). Everything goes fine, but not until recently when One Manga has officially removed all the online reading content (mangas) from their web site on August 1. I guess you know the reason behind the removal of the manga content.
With the closing down of One Manga's online manga reader, the One Manga Reader Chrome extension is no longer useful. For me and other One Manga's manga readers, we need to find alternative free online manga reading sites. There are several good options like Manga Fox, Bleach Exile, Manga Reader and Manga Stream sites.
With One Manga Reader no longer needed, the same extension's developer has created a new extension, called the All Mangas Reader, which offers the same functionalities as One Manga Reader, but works with manga sites like Manga Fox, Bleach Exile, Manga Reader and Manga Stream.
After installed, All Mangas Reader icon will sit next to the Google Chrome's address bar. Clicking on the icon will reveal the extension's reading list where you can add your favourite manga series to the list.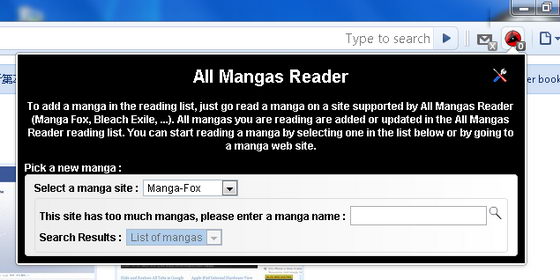 To add a manga to your reading list, simply read a manga on a manga site supported by All Mangas Reader and the manga will be automatically added to the reading list.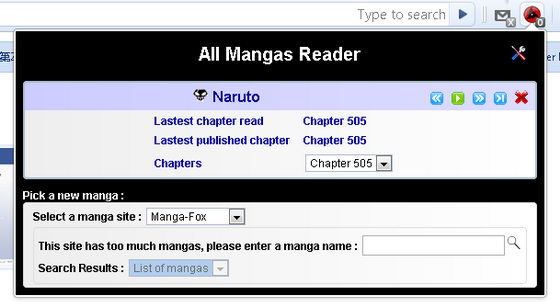 Once added to the reading list, All Mangas Reader will give you access to :
the most recent chapter that has been read by you
the latest chapter that have been published on One Manga
any chapter you want (a list of all chapters is provided for each manga).
When a new chapter of a manga in your manga list is published on the web site, you will notice a tag on the extension's icon.
You can display your reading manga list in "Block mode" or in "List mode". If your manga list is too long, you can choose to open this list in a new tab when you click on the extension's icon.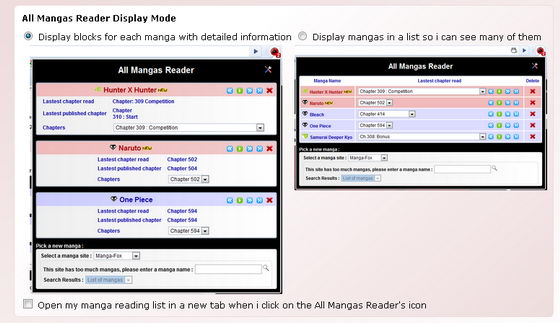 In addition, using this extension, you can read manga in much better way. By default, All Mangas Reader will automatically remove ads and display the whole manga chapter scanned images in one single page, which get rid the need to navigate between pages. Just scroll down to view the next image. Normally, you can read only a single page at a time.
Before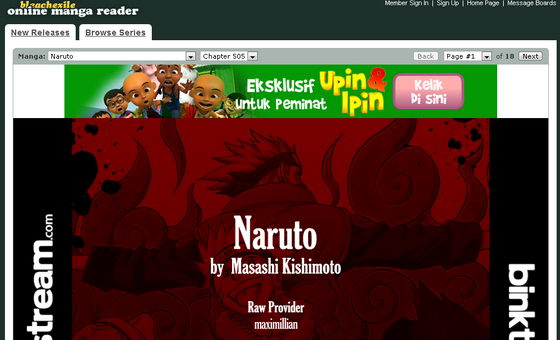 After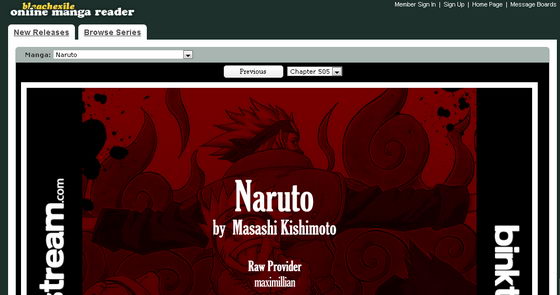 See the difference? No ads and no more back and next buttons!
And if you have a wide screen, you can choose to see the chapter as a real book. In addition, you can choose to read the book in two modes, which are from left to right (Occidental mode) or from right to left (Japanese mode).
Install All Mangas Reader Chrome extension to follow updates on your favourite mangas on various manga sites (Manga Fox, Bleach Exile, Manga Reader and Manga Stream) and gives you better manga reading online.