Microsoft prices Surface RT at RM 1549 (32GB) and RM 1849 (64GB)
By Steve Yu on April 25, 2013
@steveyu85
'
Microsoft Malaysia has revealed the pricing for Surface RT ahead of its public launch event later today. The pricing is now available online at the official Surface RT page on Microsoft Malaysia's website.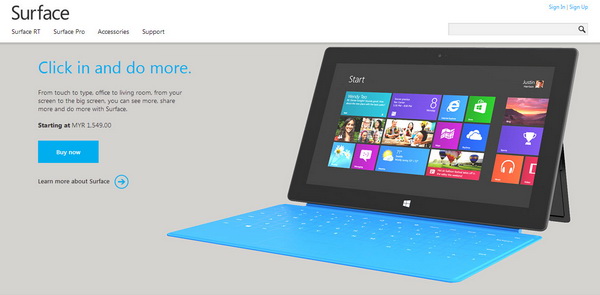 The ARM-based tablet starts at RM 1549 for 32GB model and RM 1849 for 64GB. Touch cover costs another RM 300, if you bundled it together with Surface RT. The touch cover is selling separately for RM 379. The tablet is available through official retailers including Harvey Norman, Thunder Match and Challenger.
Hop over to official Surface RT page for more details. Also check out the tablet accessories and their pricing on the same page.
Related
Steve Yu is a technology blogger with ten years blogging experience under his belt. He is the founder of MyTechQuest.com or just MTQ.
Social Count

Android

Latest Articles

Latest Windows 10

Latest Freeware

Find Us on Facebook
Copyright © 2007 - 2017 My Tech Quest. All rights reserved. Powered by Wordpress and Hostgator.