Apple to Announce iPad 3 Next Wednesday, March 7
'
Good news, guys! The next-generation of the Apple tablet, iPad 3 will be officially unveiled this coming Wednesday, in the March 7 media event, which is only 6 days from now!
Apple has issued the following invitation to selected members of the press for a media event at San Fransisco at 10 a.m. Pacific Standard time on Wednesday, March 7. For local time (in Malaysia), that's 2 a.m., on March 8.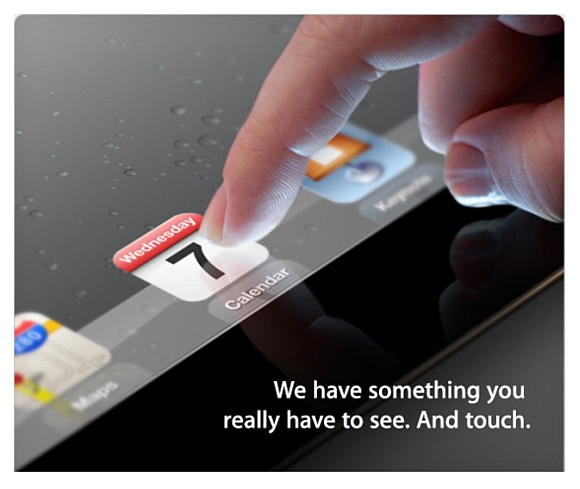 Besides the Calendar icon showing Wednesday and the number 7, which means Wednesday, March 7,  there is a line of words, simply reading "We have something you really have to see. And touch." What could it possibly means?
Also, what could be the possible new features for iPad 3? From the invite, there's a certainty that iPad 3 will sport a higher screen resolution, with 2084×1536 pixel as the most possible resolution – up from the 1024 x 768 pixel display on iPad and iPad 2. Besides, iPad 3 is rumoured to be thicker than its predecessor, pack with a quad-core processor, a possible 4G LTE networking, support for Siri voice assistant and last but not least, the home button may not appear on iPad 3 too.
To verify all the mentioned features, please wait till next Wednesday!
[via]