How to Reduce Size of Windows Border in Windows 8?
'
We've talk about a few lightweight yet useful applications for Windows 8 here like Power8 (brings start menu to Windows 8), Skip Metro Suite (boot directly to classic desktop), Win+X Menu Editor (manage Win+X menu) and Taskbar Pinner (lets you anything to taskbar). That's not all. For users who love to tweak Windows 8, you might want to take a look at Tiny Windows Borders.
You should probably noticed that the borders for program windows as well as Windows explorer in the upcoming Windows OS appear to be a bit larger (at approx. 3 pixels) than the previous versions of Windows. Now, how many of you want a thinner Windows border in Windows 8?
Tiny Windows Borders is a tiny tool that enables you to reduce or expand the size of Windows borders in Windows 8, without getting your hand dirty with the registry.
Tiny Windows Borders is easy to use. In the main window of the application, you can configure the border width and border padding, using the sliders with values from 0 to 10.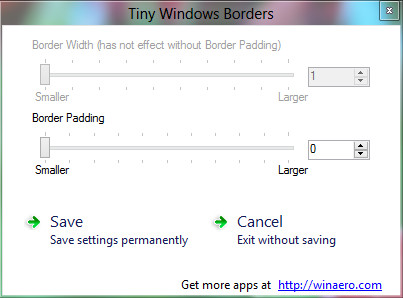 You can fire up a program and adjust the settings in Tiny Windows Borders to view the changes to the border in real time.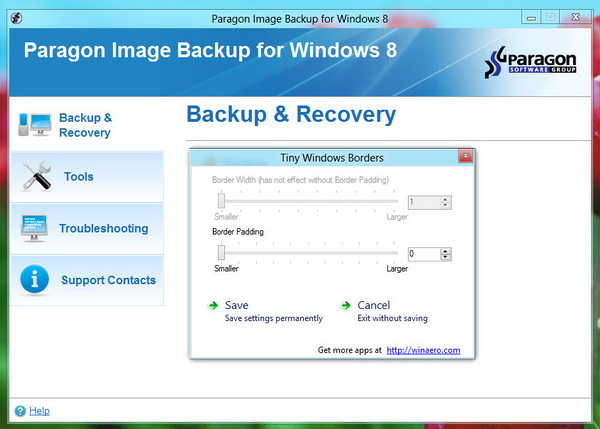 Once done, click Save button for the settings to take effect, without the need to restart or log off your computer.