System Mechanic 9 Free Download with 6 Months License Serial Key
'
iolo technologies is back with an exclusive promotional offer which gives away free 6 months license keys of it's popular application product, the System Mechanic 9 to any interested users. 🙂
System Mechanic by iolo Technologies, is an essential application to tweak and keep your PC running in peak condition. It can fixes your Windows problems, clean out clutter, boost performance, eliminate crashes, and much more.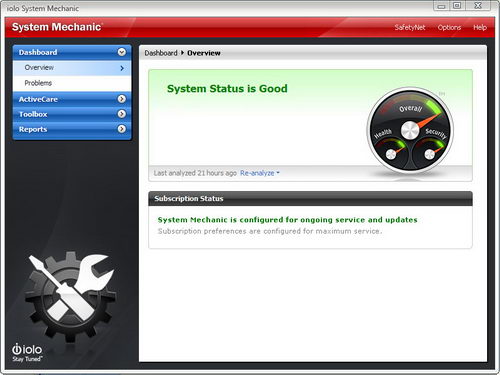 Below are the key features of System Mechanic :
View any problems detected by System Mechanic and decide which ones you want to fix.
Enable ActiveCare to perform the automated housekeeping tasks that you specify.
Remove performance drains and adapt settings to boost PC and Web speed.
Compact, repair, and backup the vital system registry.
Fix hard drive errors that cause computer crashes and lock-ups.
Defragment hard drives to improve performance and extend the life of drives.
Block hidden malware from altering your system settings.
Repair security vulnerabilities that leave your system open to attack.
Erase temporary and other junk files to reduce clutter and increase drive capacity.
Delete the cookies you don't need, but keep the ones you find beneficial.
Customize the behavior of over 100 Windows features.
Access advanced tools for system troubleshooting and detailed configurations.
System Mechanic 9 is an older version of the latest version 9.5, and is priced at USD$39.95 per copy. But without paying a cent, you can download the full version of System Mechanic 9 for free with license serial key valid for 6 months.
To grab the free license serial key of System Mechanic 9, simply visit this promotional page. Click Continue to enter the iolo shopping cart page.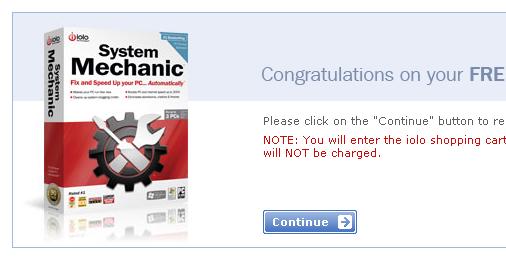 Click Secure Checkout button to continue. Fill up the billing address form and make sure you enter valid email address. Once completed, click on the Review Order button. Finally, on the Review My Order page, hit the Submit Order button to complete the order.

Shortly after, an email from iolo Technologies, containing free 6 months activation license key for System Mechanic 9 will be delivered to your email inbox.
Now, download and install the setup installer of System Mechanic 9.
During installation, select "I own system mechanic and can enter my serial number later" option for the installation mode.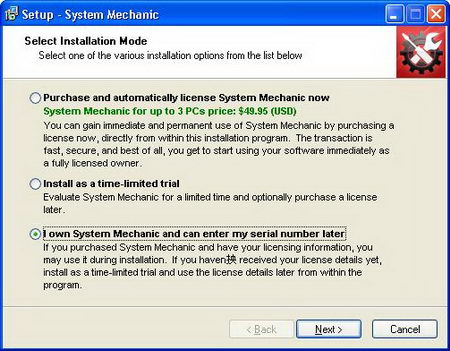 Then, you will be taken to the next screen to provide your license key. Key in the license key to upgrade your System Mechanic to fully functional version. Enjoy! 🙂