Get Panda Cloud Antivirus Pro 1.4 for Free with 6 Months Trial
'
Panda Cloud Antivirus is the first cloud-based antivirus agent that is connected in real-time to PandaLabs' online Collective Intelligence servers to protect faster against the newest malware variants while barely impacting PC performance.
It is extremely light and fast as it delegates all work to the cloud (Collective Intelligence) and applies non-intrusive intervention techniques, detecting even new and unknown viruses, spyware, rootkits, malware and malicious activity.
On February 1, Panda Security has released the newest version of both Panda Cloud Antivirus Free and Pro 1.4 edition. This release is mostly a maintenance and internal bug fix release.
The new additions and features are :
New notification system.
Toolbar and URL Filtering compatibility with Internet Explorer 9 and Firefox 4.
Fixed GUI scan progress window.
Added "Free" or "Pro" labels on the main window to clearly differentiate what is installed.
Fixes in translation strings.
The pro edition has all the features you can found in the free edition plus 24×7 multilingual tech support, behavioral analysis of running processes and automatic USB vaccination to protect your computer from autorun malware.
The Panda Cloud Antivirus Pro 1.4 edition costs $29.99 to purchase with 1 year subscription license. As part of exclusive promotional offer from Panda, you can get yourself free copy of Panda Cloud Antivirus Pro 1.4 with 6 months subscription trial.
How to grab FREE license key for Panda Cloud Antivirus Pro 1.4?
Simply visit the Cloud Antivirus's Facebook fan page.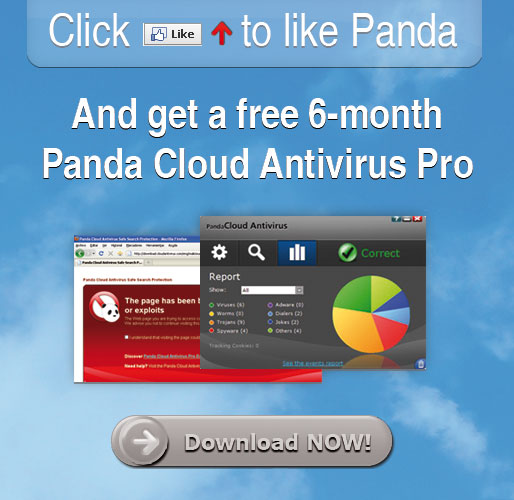 Click on the "Like" button to become a fan of Cloud Antivirus in Facebook, thus unlock the "Download NOW!" button to download the setup installer of the Panda Cloud Antivirus Pro [Direct Link].
After download, just install the application. No activation code or license key is required.
Panda Cloud Antivirus Pro is compatible with Windows 7, Vista and XP operating systems.