Download Uniblue SpeedUpMyPC 2010 with Free License Serial Key
'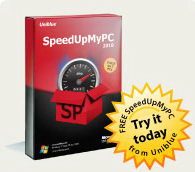 Update [28/8/2010] : Check out another promotion for Uniblue SpeedUpMyPC 2010.
SpeedUpMyPC is Uniblue's award-winning and top rated PC performance enhancer that helps you to boost your PC's speed. This application scans your computer to identify the processes, files and settings that are slowing your computer down, before wielding a powerful range of tools to optimize your system for improved performance.
With single click simplicity, network settings, RAM and CPU function are all scanned, cleaned and tuned for speed, while junk files are deleted for space. The result is a computer that works faster and better.
The latest version of Uniblue SpeedUpMyPC 2010 is worth $29.95 per copy. If you have tried or currently using the previous version of SpeedUpMyPC 2009, I believe you are more than happy to upgrade to the 2010 version.
But now, without having to spend a dime, you can grab a copy of SpeedUpMyPC 2010 with valid license serial code for completely FREE!
V3.co.uk is currently running a limited-time exclusive offer for V3 Software Store members, that gives away free full version copy of Uniblue SpeedUpMyPC with 1 year working license serial key for 3 PCs.
This free full version of SpeedUpMyPC comes with 12 months of ActiveProtection – product updates and support.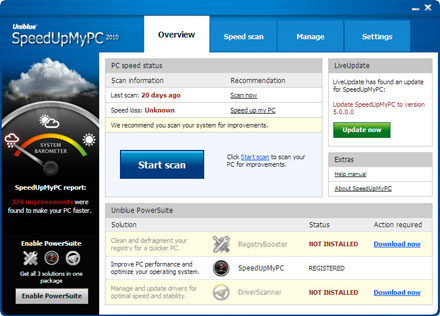 To download SpeedUpMyPC 2010 for free, simply head over to this promotional page. To be eligible to download SpeedUpMyPC 2010 for free, you must be a member of V3.co.uk software store. If you are not a member of V3 software store, don't worry, you can sign up to become a member for free.
On the promo page, you will need to first log in your account, then click the "Download"button to download the setup installer.
How To Get Your SpeedUpMyPC 2010 Serial Code?
You can obtain your serial code during this promotion only from: http://mag.uniblue.com/stores/sp/signup/. Your serial code will be sent to your inbox. After installed, use your serial number to activate SpeedUpMyPC to fully functional version.
The promotion runs between midday GMT Friday 2nd of April through to 9am GMT Monday 5th of April 2010. Not much time left, so please hurry up!