Download Spyware Doctor 2011 with Free 1 Year License Key
'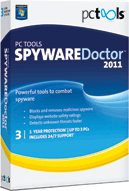 Spyware Doctor 2011 from PC Tools, is an award-winning antispyware to secure your computer against privacy and tracking threats.
It defends your computer against malware attacks with multiple techniques using proactive, reactive, and automatic protection to stop threats at every entry point. Now includes memory scanning, behavior profiling, and protection report cards to provide up-to-date protection and status monitoring for your PC.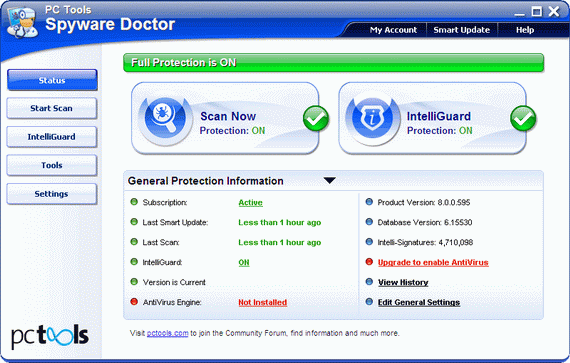 New Features in Spyware Doctor 2011 :
New Download Guard protects against web-based attacks, phishing attempts, rogueware scare tactics and silent drive-by downloads.
Memory Scanner helps eradicate threats lurking on your PC.
The ability to disable idle scan for optimal PC performance.
Protection report card to keep you informed of how PC Tools has protected your PC over the last 30 days.
Spyware Doctor 2011 (v8) is normally priced at $29.95 with 1 year license subscription for 3 PCs. As part of promotional offer from PC Tools, you can get a 1 year license serial key of full version copy of Spyware Doctor 2011 for free. Plus, you'll get 12 months technical support for free too.
How to grab FREE 1 Year license key for Spyware Doctor 2011?
First, use one of the German-based proxy sites to access the promotional page at http://www.pctools.com/spyware-doctor/free/promo/PCWELT0111/
http://anonwebproxy.com
http://german-proxy.de
http://webproxy.ich-war-hier.de
On the promo page, fill in the form with the required details. Make sure you enter valid email address. Once finish, hit the "Request Free License" button to submit the form.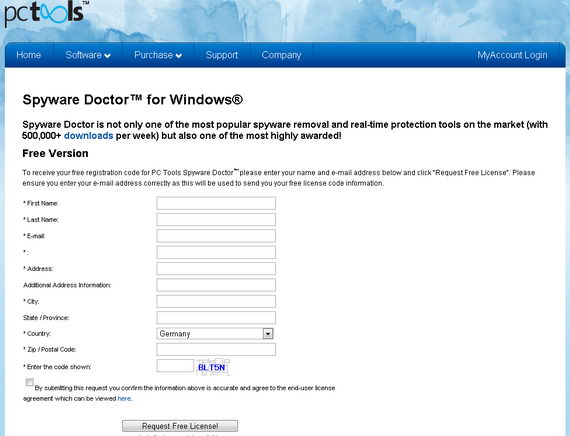 Shortly after, an email from PC Tools will arrive at your email inbox. In the email, you should find your free license serial code and instructions on how to register your free copy of Spyware Doctor 2011.
The setup installer for PC Tools Spyware Doctor 2011 can be downloaded from this link.
Spyware Doctor 2011 is compatible with Windows 7, Vista and Windows XP operating systems.