Christmas Freebie : "O Holy Night" by Kenny Rogers, Free MP3 Download
By Steve Yu on December 29, 2008
@steveyu85
'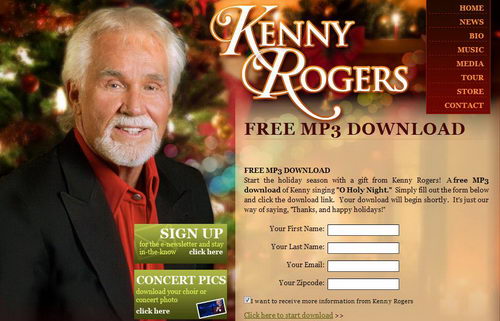 There are a score of special promotions during this year Christmas that offer you bunch of free Christmas songs for download. You may have downloaded the whole Christmas album of Holiday Hits 2008 from Oprah's website, 25 free Christmas music download at Amazon.com and the recent 12 days free media download from iTunes.
Here, you have chance to add another free Christmas mp3 song to your collection. "O Holy Night" song, by the infamous singer, Kenny Rogers is free for download. What you need to do is visit this page, simply fill out the form and click the download link. Your download will begin shortly.
Check out for more Christmas Freebies here.
Related
Steve Yu is a technology blogger with ten years blogging experience under his belt. He is the founder of MyTechQuest.com or just MTQ.
Social Count

Windows 10

Latest Articles

Latest Android

Latest Freeware

Find Us on Facebook
Copyright © 2007 - 2017 My Tech Quest. All rights reserved. Powered by Wordpress and Hostgator.