Facebook Photo Album Downloader [Firefox Add-On]
'

Facebook Photo Album Downloader is a firefox extension that allows you to download your friends' entire Facebook albums, Events albums, and Group Albums with just a mouse click. Using this Firefox add-on, you can save a lot of time than manually download a single photo at a time from your friends' album.
To download photos from the a friends album, all you need to do is right-click on the name/link of a Facebook album and click the Download Album with FacePAD option.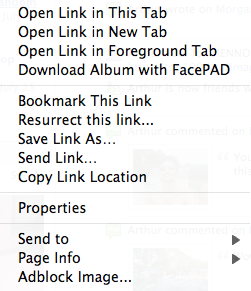 If you did this properly, a JavaScript pop-up will appear telling you to wait a moment while it initiates the download process.

Press OK and the photos will be downloaded to Firefox's default download directory. If there are more than one page of photos (one page contains 20 photos), then more than one JavaScript pop-up will appear.
To download an album from Events Album or Groups Album, you must right-click on the See All link on the main page of the group or event of interest.