'

In my previous post, I have introduced a WordPress plugin called Share Count button for Facebook. Since it's a WordPress plugin, therefore the share button can only be displayed on WordPress blogs.
Few days back, Facebook has launched a new version of Facebook Share that includes button with a live counter, which shows the number of times a particular article, video or piece of content has been shared on Facebook. This is a great news to all bloggers because the Facebook Share Count button can now be added to any website especially on blogspot. What's you need to do is simply add a few lines of code.
Just head over to Facebook Share page. Make sure you choose the style as Button and the "Live Counter" option is ticked. Then, choose whether you want to display the live counter above or inline with button. Finally, copy and paste the codes to your blog. Simple as that!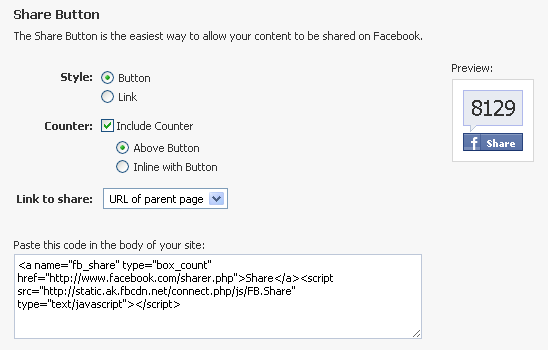 Related
Steve Yu is a technology blogger with ten years blogging experience under his belt. He is the founder of MyTechQuest.com or just MTQ.
Social Count

Android

Latest Articles

Latest Windows 10

Latest Freeware

Find Us on Facebook
Copyright © 2007 - 2017 My Tech Quest. All rights reserved. Powered by Wordpress and Hostgator.