Facebook Rolled Out New Profile Page, Get the New Layout Now!
'
Good news to over 500 millions Facebook users! Yesterday, Facebook has rolled out a new design to the Facebook profile page. 🙂 And below is the screenshot of my new Facebook profile page. Take a look at it.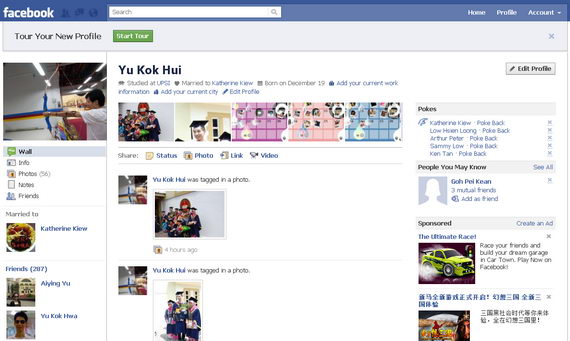 I know you are getting excited about it. So let's us take a look at some important changes/features made to the profile page, shall we?
New Profile Information and Recently Tagged Photos
The new design has moved your personal information from the left sidebar underneath your default profile photo, to the top main column of the page (just under your name title). Your profile now begins with a quick summary of your basic information, such as where you're from, where you went to school, and where you work etc.

After the profile summary, you should see a row of five recently tagged photos of you. Where have all the tabs (Wall, Info, Photo etc) gone to? Well, all the tabs have been relocated to the left sidebar (under your profile page).
Featured Friends
Next is the featured friends in which you can highlight the friends to feature on your profile page. For example, you can group your best friends into a list called Best Friends. Put up groups of your colleagues, teammates etc.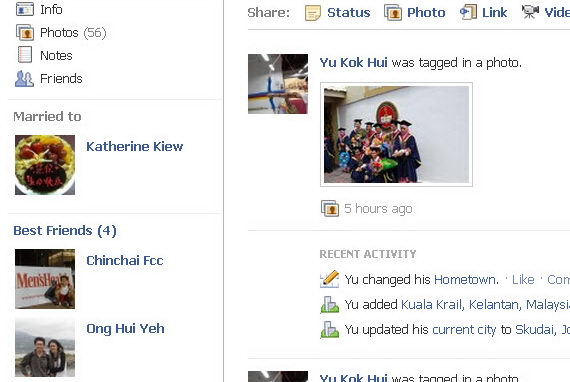 Infinity Scrolling to Your Photo Collections
This is the coolest feature of all! Introducing the infinite scroll feature! Thanks to it, you can forget about browsing through pages of photos in an photo album in order to view all the photos inside. Because now, all your photos are presented in one long, scrollable page. Much faster and more fun! 🙂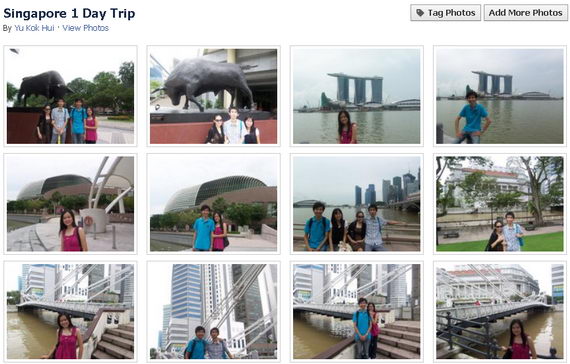 Improved Friends Page
The Friends page now allows you to quickly find the people you're looking for. You can search by name, current city, hometown, school etc.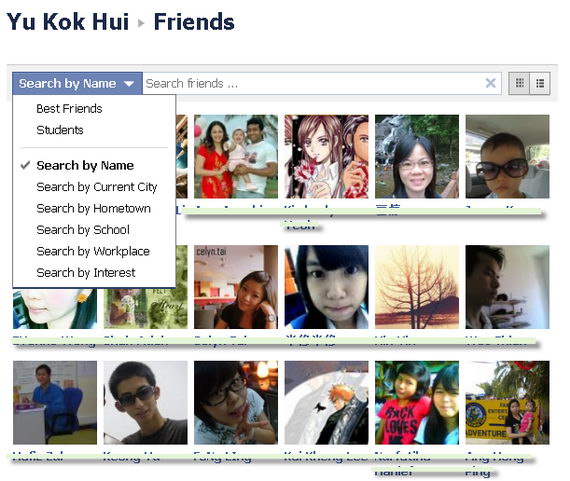 How to Switch to the new Facebook profile page?
Okay, you've done reading the new features. Now you want to upgrade to the new profile layout. Here's how.
First, head over to http://www.facebook.com/about/profile/.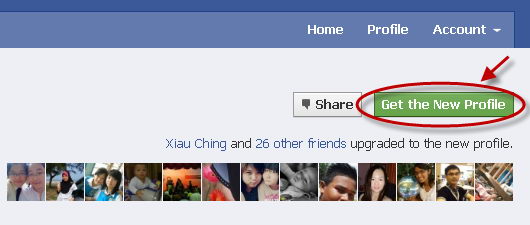 Click on the green "Get the New Profile" button. Voila! You now have the new profile layout. 🙂