WordPress 2.5 Available for Download! Get Your Copy Now!
'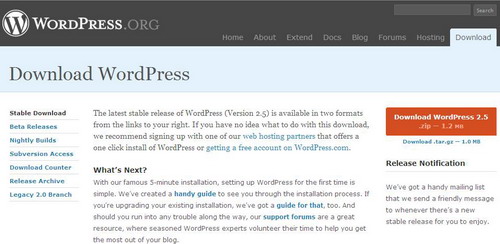 In less than a week after migrating to this self-hosted WordPress blog from my old Blogger blog ( with still a bunch of tweaking to do ) , now here come the new WordPress version 2.5. Probably a good news for all WordPress users out there but at least not for me because now I have to get my head around again. 😡
I have downloaded a copy of WordPress 2.5 ( If you haven't , go here to download ) but at the time of writing, this blog is still using WordPress 2.3.3. I will upgrade to WordPress 2.5 shortly after. Good luck to me (and you)!
By the way, before upgrading , you may want to deactivate/delete any of these plugins ( if you have them ) because they are no longer needed in WordPress 2.5. Here are they.
Gravatars/Avatars related plugins ( cos WordPress 2.5 comes with Gravatars support )
Any more?
You also may want to check out these non-working plugins, or have issues with WordPress 2.5 here.
Okay, I want upgrade to WordPress 2.5 now. Have a nice day!
Updated : My Tech Quest has been successfully upgraded to WordPress 2.5.