Vote for My Tech Quest as the Fave Tech Head in the DiGi WWWOW Awards
'
For the first time ever in Malaysia, we have blog awards for Malaysian bloggers (at last!!!) as a tribute and recognition to all local bloggers who are currently making an impact in the blogosphere. Named as the DiGi WWWOW Awards, the award is the 1st people's choice Internet awards for Malaysians by Malaysians!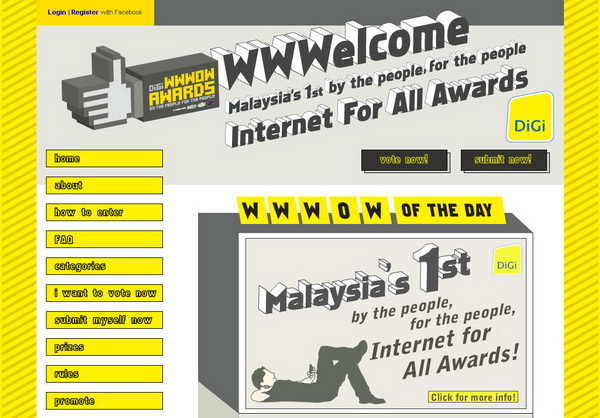 From the official site of the DiGi WWWOW Awards, you can nominate and vote for your favourite blogs (or you can submit your own blog too) within a range of categories. There are altogether 16 awards (check them all here) including the Fave Tech Head Award for tech blogger like me! 🙂
The awards is based on voting system and you need to be a Facebook user in order to cast your vote. The voting period has already started on April 21 and will end on June 30, 2011. You can see who's leading within each category at any moment in real time. Do note that you can cast only one vote for each category everyday till the closing date.
Winners in each respective category (based on most votes) will be recognized at the yellow carpet gala dinner awards ceremony on July 12, 2011 at Pentas 1, Kuala Lumpur Performing Arts Center (KLPAC), where they will receive a commemorative trophy as well as RM5,000 worth of prizes!
Vote for My Tech Quest for the Fave Tech Head Award!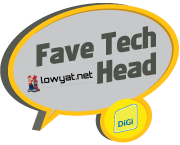 Okay, now comes the main point. 🙂 My Tech Quest has been nominated for the Fave Tech Head Awards, which I've submitted the entry myself. So, if you really enjoy reading my blog, it's now time for you to show your support to this blog.
Help me to win by voting this blog over at DiGi WWWOW Award. At the time of writing, My Tech Quest is now sitting at the 13th place. 🙁
Vote My Tech Quest Now! Thank you for your vote!
P.S. : If I win the award, I promise I will run a great giveaway on this blog to thank all your support. 🙂