My Tech Quest Get a New Look!
'
A new look at My Tech Quest is pretty much predicted as I have hinted about the change on our blog's 3rd anniversary (which was three days ago).
Our new theme, called the Rutheniumify, is another well-designed (and free) theme from Paddsolutions. Our previous theme, Masagana was also created by the same designer. Although our initial intention is to purchase a premium theme but in the end, we have picked this free (with professional looking) theme. A free premium wordpress theme at no cost! 🙂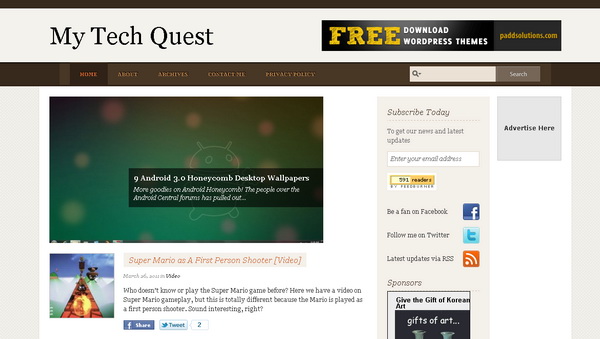 We have decided to stick with magazine-style theme (yes again, hope that's you are fine with that 🙂 ) but chose a three-column WordPress theme instead as we can put more information (and ads too but at a considerable amount :-)) at the sidebar. Other features that we like including a better comment system, dropdown categories menu, automatic thumbnail resizer and separation of comments and trackbacks.
Thus far, I've done minor tweaks to the theme here and there. And if you have any suggestions or comments to make this blog looks better and eye-catching, please leave your comment here. 🙂
P.S. : Our next step is to get a logo for My Tech Quest. Maybe I will run a logo design project at mycroburst.com to get designers to submit their logo design drafts, just like what's Mike from CravingTech has tried previously.