I am Proud Owner of HTC Desire S, Thanks Maxis10!
'
This is the moment that I've been waiting for since I've concluded the HTC Desire S review for the Maxis10 Reviewers Programme two weeks ago.
An email from Maxis arrived at my inbox yesterday has brought me a good news. So folks, Maxis has decided to let me keep the loaned unit of HTC Desire S. And now, I am proud to announce that the HTC Desire S (that I'm currently holding :-)) is officially mine.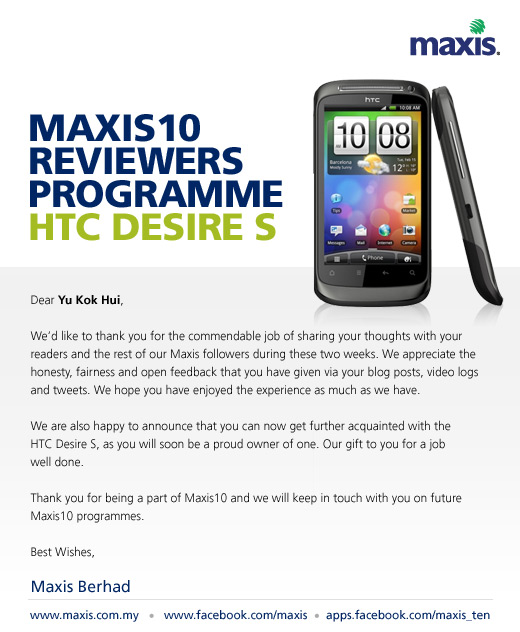 Thank you Maxis to running such a great programme for local bloggers to experience the latest smartphones and tablets in town. Thank you to April Yim and Fiona Jitab for your assistance during the reviewing period.
Honestly, it took me quite some time before deciding to try my luck in the Maxis10 Reviewers Programme, as I've no experience in doing hardware review. But I'm glad that I'd eventually apply for the programme. 🙂 And if you are not yet a part of Maxis10, come and join the family. Currently, Maxis is looking for bloggers to review the first honeycomb tablet, the Motorola Xoom.