Free Blogger and Facebook Biz Cards for Everyone
'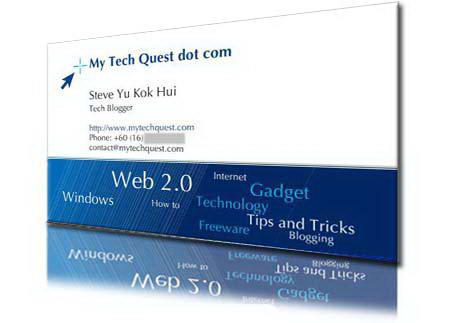 "Hi, I am Steve Yu and here is my Blogger business card."
As a blogger, do you ever promote your blog offline by giving people your Blogger business card? If no, how about getting one for yourselves? Probably not? How about for FREE then?
Get Your Free Blogger and Facebook Business Cards
OOPrint is very generous to offer you 100 Blogger or Facebook business cards free of charge. Everyone loves free stuff, just admit it. 😀 So I guess you don't want to miss this. Here's how to get the business cards delivered to your front door.
Now, customize your card. Fill in the relevant details and click "Validate the preview" to preview your card. Click "Order" once you are satisfied.
Again, click "Order" to go to the next page. Your cards will be printed on standard white paper (220g) and there will be a little writing at the back of the card.
Even though the cards are free, you still need to pay for the shipping fee. But don't worry, you can waive the USD $5.90 delivery charge by entering this promotion code, "CARDINAL". This promotion code is valid until 21st April. Make sure you grab the cards before it's too late.
Next, fill in your delivery and billing addresses.
Finally, sit back and wait for your new cards to arrive. It may take up to 9 days.
Prepare Your Cards for Blogger Gathering Event
So there you go on how to get yourselves free business cards. You know what, you can distribute or exchange your Blogger business card with fellow bloggers during blogger gathering event. Well, till now, I don't have the chance yet to attend such event. LOL! When I have, I want to exchange my card with Mr LiewCF. 😀
Update : Here is the prove that you don't need to pay for the blogger cards plus the delivery fee. Remember to enter promo code "CARDINAL" to enjoy the free delivery fee. 100% FREE! No catch at all! 😀

P.S. : Anyone wants to exchange card with me? Anyone?