'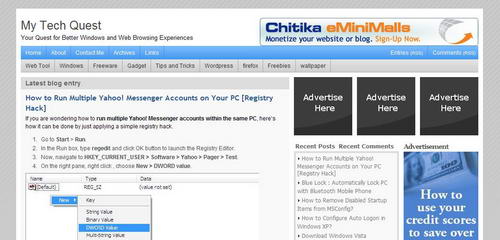 Finally, after 3 months blogging on My Tech Quest since migrating from blogger , I gave this blog a brand new look. This is my second theme after the previous Forte theme. I hope that everyone likes the new Gablog theme which was released by the theme owner just 2 days ago. The reason why I picked Gablog is that Gablog is a 3-columns theme ( don't like 2-columns ) and it has a wider width as compared to Forte. Also, now I can see my avatar appearing at the comment section. Previously, I just saw a picture with a "?" inside.
At the moment, I'm still tweaking the theme and I'm willing to hear any suggestions or comments from you to make this blog looks better and eye-catching. Any suggestions?
Related
Steve Yu is a technology blogger with ten years blogging experience under his belt. He is the founder of MyTechQuest.com or just MTQ.
Social Count

Android

Latest Articles

Latest Windows 10

Latest Freeware

Find Us on Facebook
Copyright © 2007 - 2017 My Tech Quest. All rights reserved. Powered by Wordpress and Hostgator.