Auto Fill Personal Details and Comment Message in Blog Comment Form [Firefox Add-On]
'
Leaving comments on others' blogs can bring many benefits to you. By commenting on a blog's posts, you can get good inbound links and also build good relationship with blog owners. Plus when you leave comments on multiple blogs, you can be socially recognized in the blogging community. Moreover if you comment on blogs focused on niche topic similar to yours, you can get additional traffic to your blog because the readers there will more likely be interested in your blog.
However, many bloggers (including me!) find hard time to leave comments especially on multiple blogs, simply because each time we want to leave a comment on a particular blog, we need to fill up our name, email and blog address over and over again in the comment form. How tedious! (Okay, I know this is just a lousy excuse)
Easy Comment is a must-have Firefox extension for bloggers, which helps you automatically fill out blog comment forms by entering a prefilled name, email, homepage URL and message. Using Easy Comment, you can leave comments easily on several blogging platforms like WordPress, Disqus, Movable Type and IntenseDebate. Plus, this extension supports multiple profiles.
Once you've this extension installed, you first need to fill up your personal details once in the preferences dialog box. To do so, click on the easyComment statusbar. Preferences dialog box will appear. Click the "Create Profile" button. Name your profile and fill up your personal details.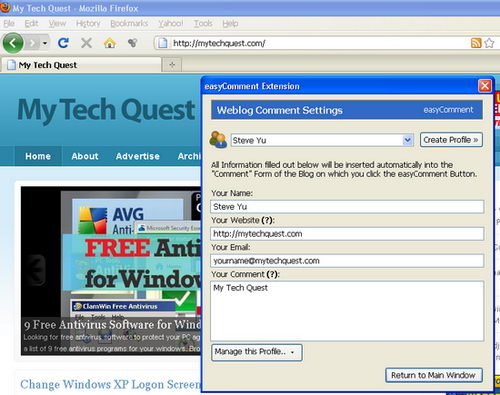 Now, you can put Easy Comment to work. To have the personal details automatically fill into the blog comment form, you can simply click on the easyComment statusbar button or by pressing a shortcut key. By default, the hotkey is Ctrl + E. You can define your own hotkey by right-click on the statusbar, then select advanced > options.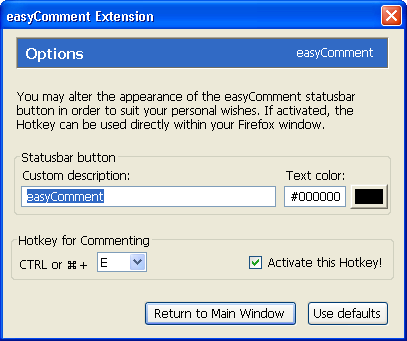 However, note that Easy Comment may not work on certain blogs. Some blogs may have change the default parameters for the comments forms. If you want to use Easy Comment on my blog, tell you what it works fine! 🙂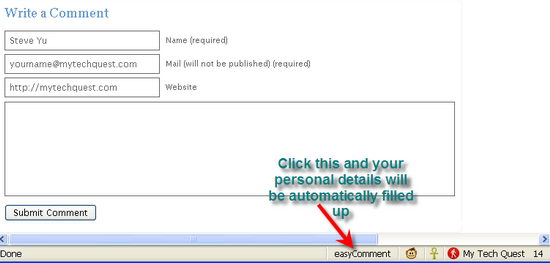 So if you comment a lot on multiple blogs, this is the right tool for you. The only thing that you have to do is compose the message you want to leave behind and not having to wonder about your personal details. They will be automatically filled. 🙂
Easy Comment is currently an experimental extension, which means that you need first to login your account at addons.mozilla.org in order to download the add-on. If you don't already have one, feel free to sign up an account. It's free! Thanks, Raju.
Install easyComment [Firefox Extension]