Antivirus Plugin for WordPress Blog
'
Antivirus for WordPress is a new security plugin that is designed to protect your WordPress blog against exploits and spam injections.
This plugin will run a daily automatic scan on your WordPress blog, or more specifically, it scans your current WordPress theme folder for malicious injections and warns you of any possible attacks. You will be notified via email if Antivirus for WordPress finds any attack.
This plugin is easy to setup. Just install the plugin on your WordPress plugin and activate it. In the settings page (Settings > Antivirus), you need to check the check box to enable daily antivirus scan and send the administrator an e-mail if suspicion on a virus.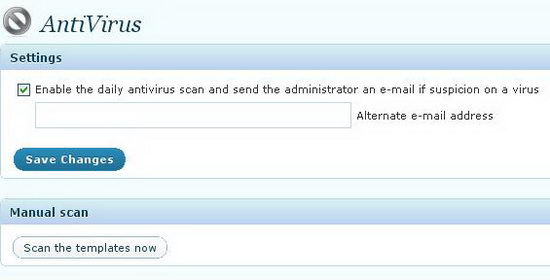 You also can run a manual scan on your blog templates folder. Just click on the "Scan the templates now" button. The scanning process is really fast. The scanning result will appear in no time. Look like my template folder is free from malicious injections.

Nowadays not only your computer needs antivirus software, your blog needs it too. Just give it a try.