'
If you think Christmas icons for feeds, social bookmarks and blogger logo icons for Blogger users is not enough to bring the festive season mood to your blog, you can consider adding snow falling effect to your WordPress blog.
Nksnow is a WordPress plugin that allows you to add falling snowflakes to your blog. You can visit this page to view the live demo. In the settings page, you can configure the number of snowflakes, the type of snowflakes and limit the plugin to show snow effect on specific posts or pages. Nksnow is compatible up to WordPress 2.7 RC1.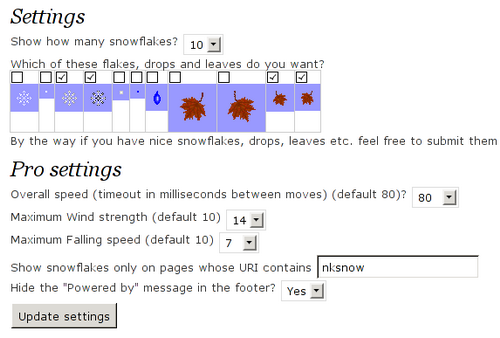 The snow falling effect looks beautiful for your blog, however it may distract your readers. If you don't mind that, then let's decorate your blog with this nice snow falling effect.
Related
Steve Yu is a technology blogger with ten years blogging experience under his belt. He is the founder of MyTechQuest.com or just MTQ.
Social Count

Android

Latest Articles

Latest Windows 10

Latest Freeware

Find Us on Facebook
Copyright © 2007 - 2017 My Tech Quest. All rights reserved. Powered by Wordpress and Hostgator.