Seesmic for Android v1.7 with Added Shortcuts to Home screen, Translation and More
By Steve Yu on April 25, 2011
@steveyu85
'
The popular social media application, Seesmic has just released the latest version of it's Android app. The latest version of Seesmic for Android 1.7 comes with several features and enhancements including the ability to add direct shortcuts to the home screen of your Android phone, translation functionality and more.
FYI, Seesmic gives one of the best way to manage your social networks in one powerful and yet simple app. You can see and update your Facebook, Twitter, Google Buzz and Salesforce Chatter accounts all at the same time, search and get notifications for new message.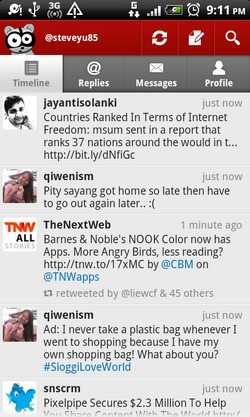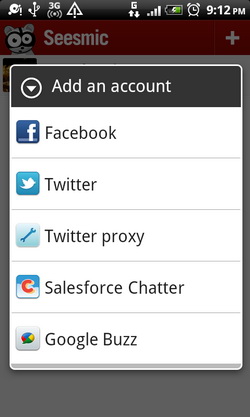 In Seesmic for Android 1.7, the application has now made it easy for you to quickly access to accounts and features within the Seesmic for Android app, directly from the home screen in one tap. You can access accounts, chatter group, composer, Facebook page, Twitter List or Twitter Search, by simply placing the respective shortcuts to the home screen.
To set up the shortcuts, long-press on a blank area of the home screen, next tap Add Shortcut, then scroll down to the list of Seesmic shortcuts and select the desired shortcuts.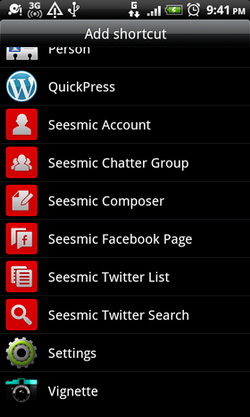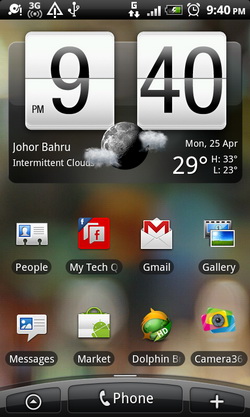 Other new features for Seesmic for Android 1.7 :
Translation: Translate updates to your current language instantly.
Spam: Mark Twitter accounts as spam in one tap.
Improved Links: Links to tweets or profiles and links to Facebook updates and profiles may be opened directly in Seesmic instead of your browser
General improvements & Tablet UI: Many little bugs are fixed, and Seesmic looks better than ever on Android 3.0 Tablets.
Seesmic for Android is available as a free download for Android and can be downloaded from the Android Market.
Related
Steve Yu is a technology blogger with ten years blogging experience under his belt. He is the founder of MyTechQuest.com or just MTQ.
Social Count

Android

Latest Articles

Latest Windows 10

Latest Freeware

Find Us on Facebook
Copyright © 2007 - 2017 My Tech Quest. All rights reserved. Powered by Wordpress and Hostgator.