My Tech Quest Selected to Review HTC Desire S for Maxis10 Reviewers Programme!
'
Hello, readers! We at My Tech Quest are very happy and excited to inform you that our tech blog has been chosen as one of ten lucky blogs (and bloggers) to review the successor of the HTC Desire phone (which I'm currently using it right now), the HTC Desire S, for the Maxis10 Reviewers Programme! FYI, this is the eleventh cycle of the Maxis10.
Below is the welcome message from Maxis. This is like a dream comes true (sort of). 🙂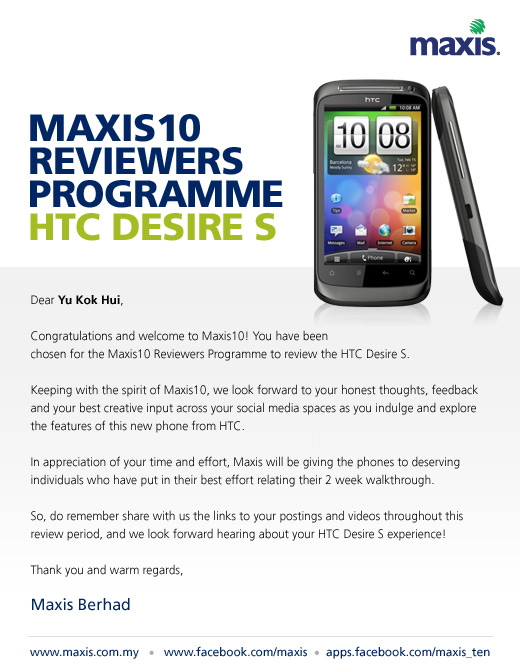 There was actually a briefing session yesterday at 2.30 p.m. at the Maxis Tower, Kuala Lumpur where all the ten bloggers are supposed to meet there and received the review unit. Well, I didn't attend the briefing session as it will take me four to five hours to get to the meeting place. So, the review unit will be couriered to me on Monday or Tuesday. Can't wait to get my hand on the HTC Desire S and compare it with my Desire phone. 🙂
For the next two weeks, please stay tuned with My Tech Quest (If you are on Twitter, do follow our twitter account, @steveyu85) as we will do our detailed reviews on HTC Desire S. The review will be split to a minimum of six articles.
At the mean time, congratulations to the other nine lucky bloggers. They are @TOkhairul, @broframestone, @beliamuda, @anastasyea_aida, @Tianchad, @ailylrozanna, @mrnamie, @qiwenism and @blogritchie. Happy reviewing! 🙂