Cheetah Mobile introduces Clean Master Lite for Android
'
Cheetah Mobile has introduced a cut-down version of its popular all-in-one free cleaning app for Android, otherwise known as Clean Master Lite. The lite version offers just a few essential features from what's on offer in the full version aka Clean Master. Read on for more details.
Clean Master Lite is specially designed for phones with memory less than 1 GB and has a small installation package size of only 3.61 MB. The app comprises of four main sections – Junk Files, Phone Boost, Antivirus and Battery Saver.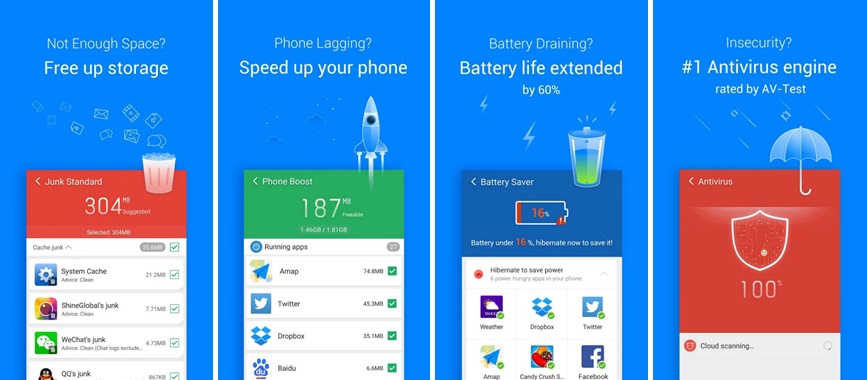 Features of Clean Master Lite
Junk File Cleaning – Delete cache files, residual junk files, ad junk and obsolete apks.
Phone Boost – Freeing up memory by killing off background running apps, thus improve your device speed.
Battery Saver – Help to analyze battery status and hibernate running apps to save power with just 1 tap.
Antivirus – Scan all installed apps for viruses, trojans, vulnerabilities, adware and spyware. Keep your privacy safe by scrubbing personal info from your device.
The features missing in the lite version are AppLock (password protect specific apps), iSwipe (quick access to other apps and tools), CPU Cooler (check for CPU overheating), App Manager, AutoStart Manager (prevent apps for autostarting) etc.
If you currently have Clean Master installed on your Android and are overwhelmed with all the features in the full version, you can uninstall the app and get Clean Master Lite instead. 🙂
Clean Master Lite is free for download. Requires Android 2.3 and up.